都灵卢斯黛拉宫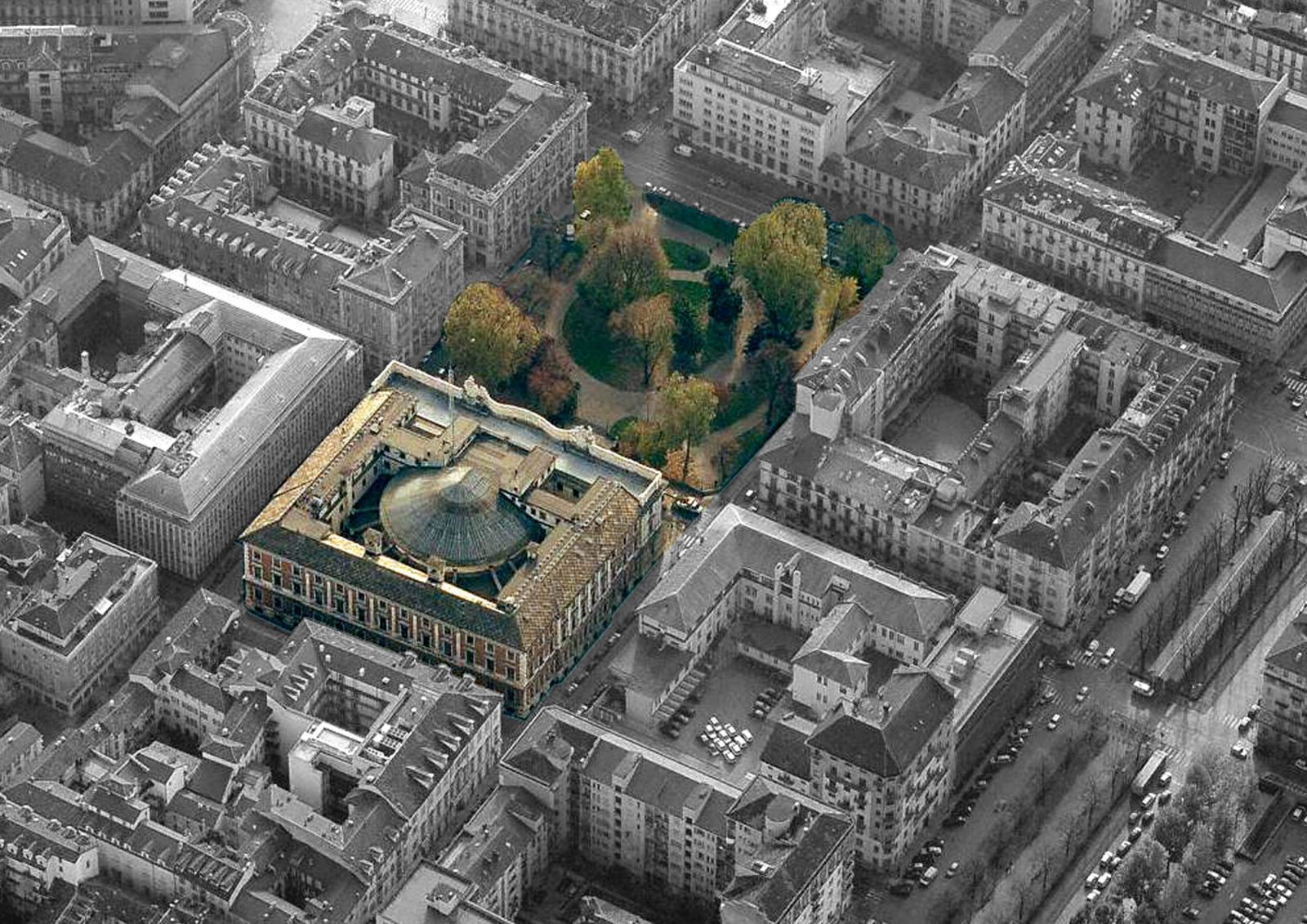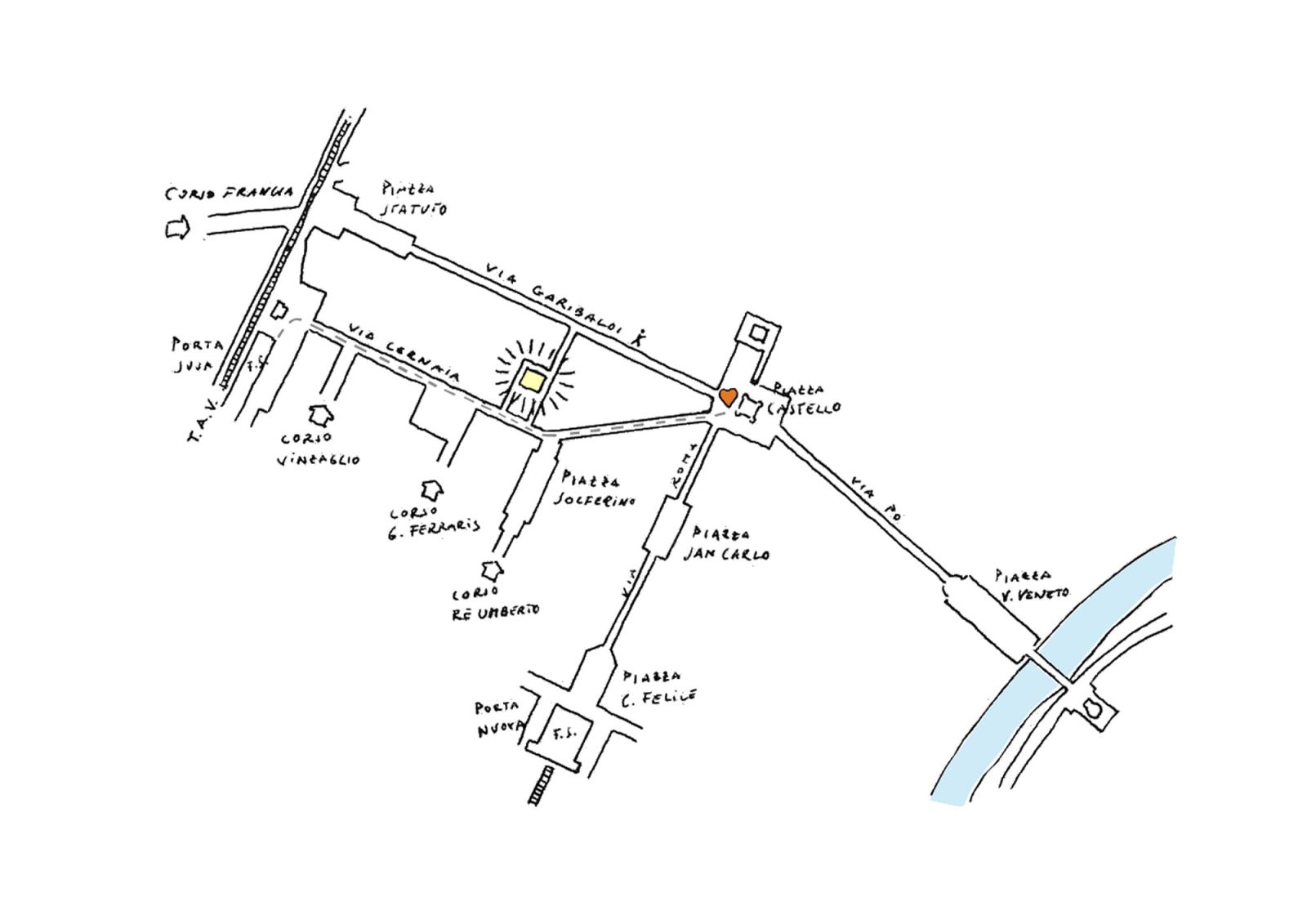 都灵卢斯黛拉宫是在1911年建成的一栋新古典主义建筑,它位于市中心,现在被划为历史建筑。这一历史古迹的复修是都灵高尚生活形象的体现。通过创新高科技的改建,为市中心提供生活和工作空间。经历近一个世纪的发展,卢斯黛拉宫现在被复兴为混合用途建筑,包括豪宅、高级办公室和一个银行大厅,以及咖啡厅、餐饮等。设计以建筑各部分不同发展潜力来改造,在复修现有建筑的同时加入新的部分,将不同的可能性平衡为一个整体的设计,既保留了原有建筑又保证了它的持续用途。
Palazzo della Luce is a beautiful neoclassical style property constructed in 1911 and now registered as a historical building. Located in downtown, it's restoration is a part of Living Supreme brand comprising heritage properties of Turin, redeveloped with innovative and advanced technical expertise providing premium living and work spaces in the heart of the city. Having seen a century of development around it and many changes itself, Palazzo della Luce is revived for mixed-use comprising luxury residences, premium offices and a bank hall as well as cafes and catering functions. The design concept actively engages with the potential of different parts of the building for transformation, addition of a new program and restoration of the existing, balancing these possibilities to evolve a singular sophisticated space that respects the heritage while ensuring its lasting use.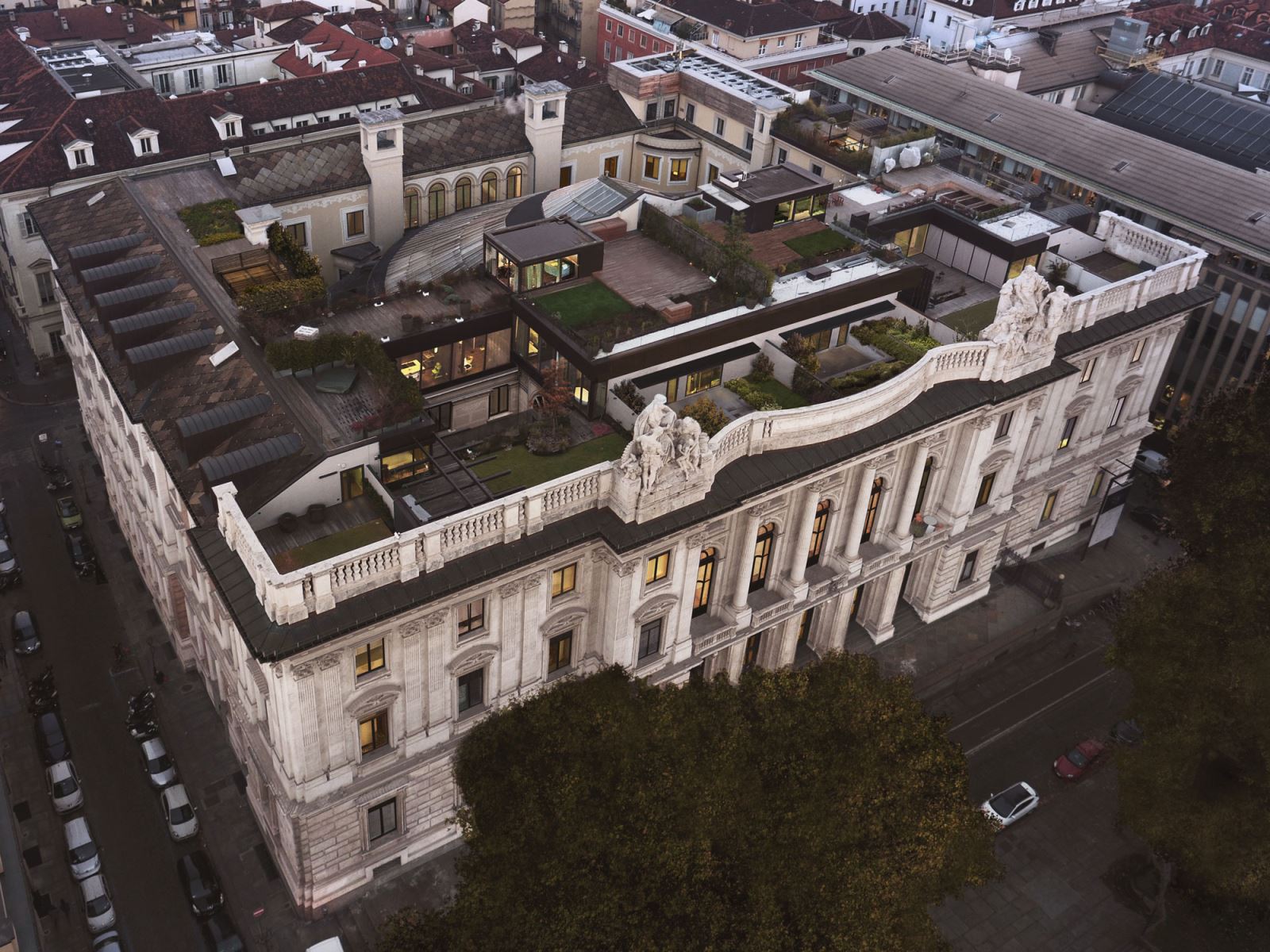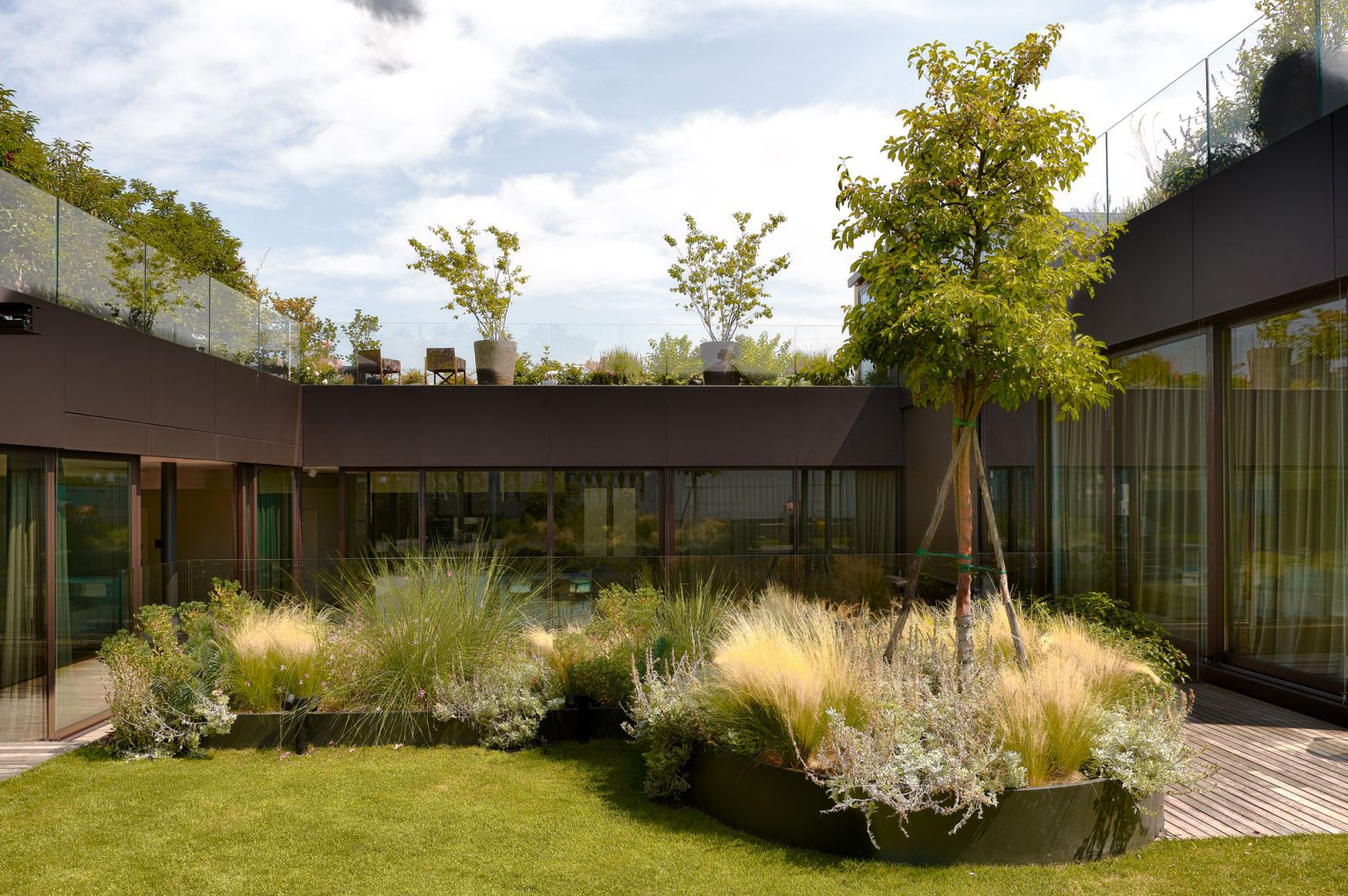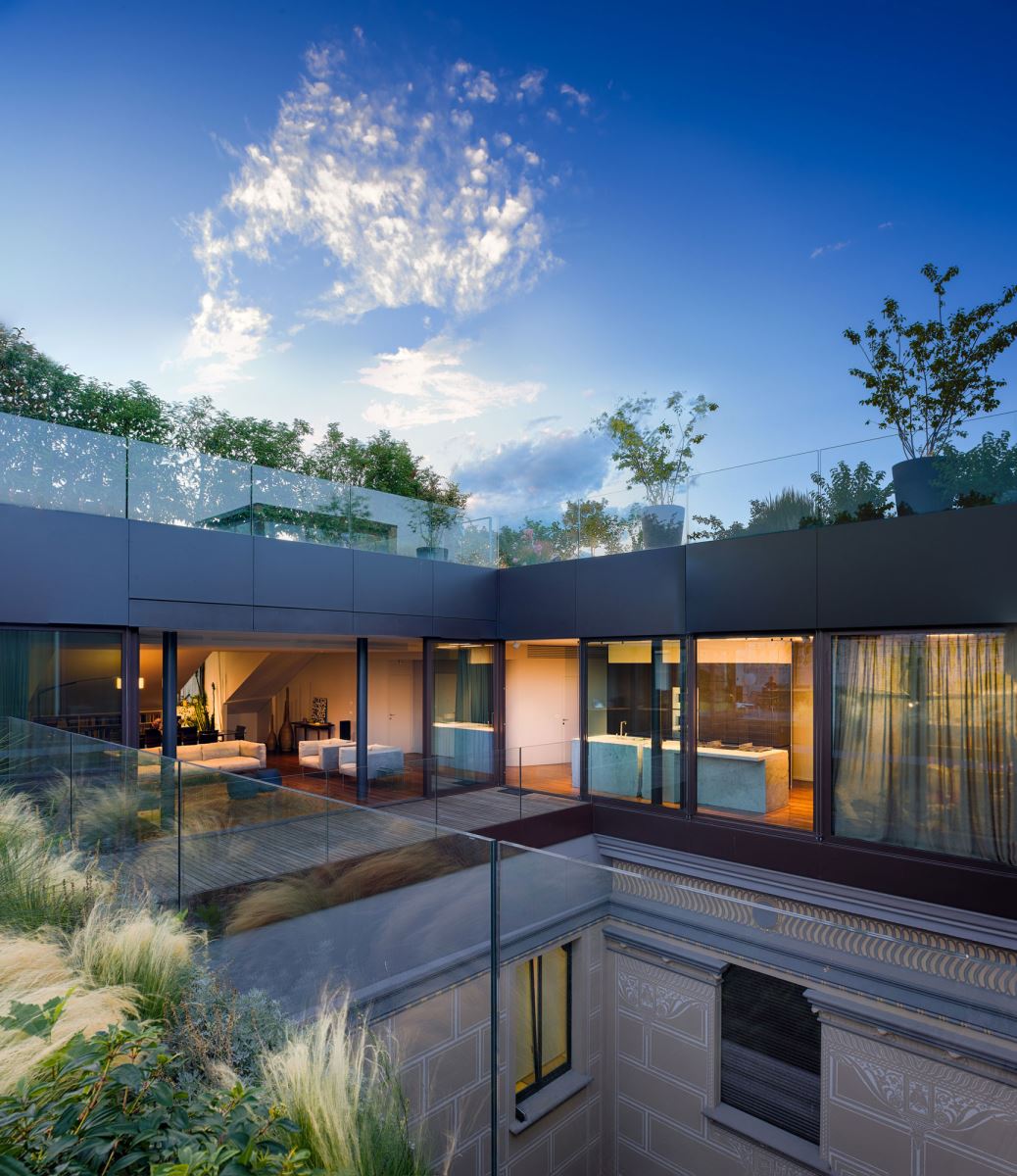 我们的设计策略是保留建筑物的石墙外观、结构、装饰和尖顶上的石雕塑,同时加入新功能和改造内部,使它符合现代需要。旧宫殿中心有一个8000平方米大、14米高的半圆形银行大厅,曾属于金融局。这一高度提供了建造画廊、夹层档案馆、办公室和一个开放式公众大厅的空间。项目同时包括8间主要办公室(下层家具可随意排列)和12套带有阳台的高端定制公寓。原屋顶上加建一层,以建造私人顶层阁楼和空中花园。所有的公寓包含先进的设施,例如室内泊车、私人健身室、门房和遥望都灵市的屋顶花园。
Retaining the historic stone exteriors and structure intact along with its ornamentation and stone sculptures at its pinnacle, the design strategy is to insert a new program and relevant alterations internally and modernizing it for new use. Situated in the heart of the old palazzo, is a large 1200 sqm semi-circular former banking hall for the Ministry of Finance featuring a ceiling height of 22 meters. This height provides an opportunity to incorporate mezzanines and galleries for archives, representative offices, individual and multiple offices and an open public hall. The project also comprises 8 units of prime offices organized in open plan with flexible furniture layout on lower levels and 12 luxury customized apartments with terraces on upper levels. An additional level is built on the original open roof for private penthouses with green terraces. All residences feature latest amenities notably indoor parking, private gym, porter's lodge as well as private roof gardens for views of Turin city.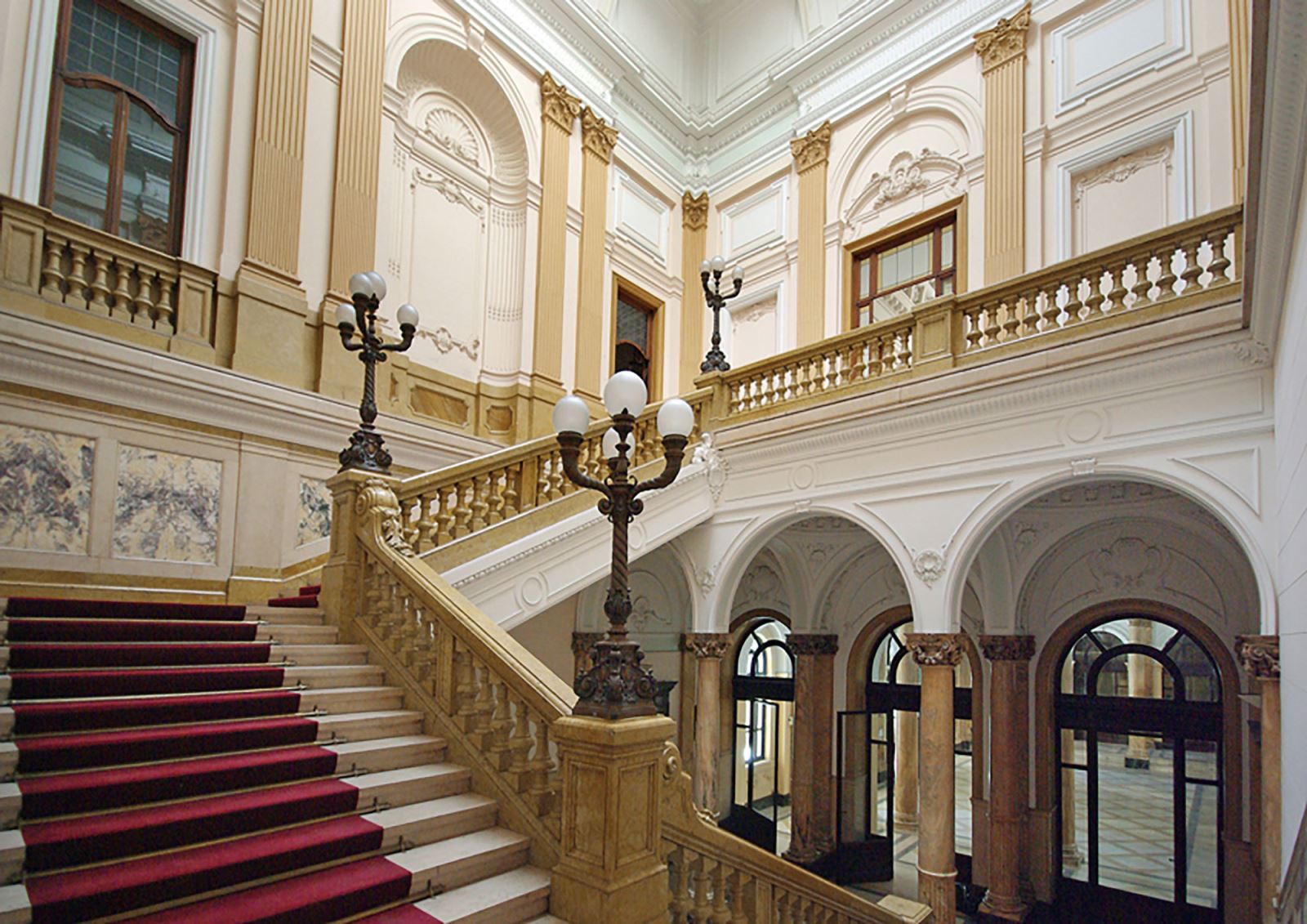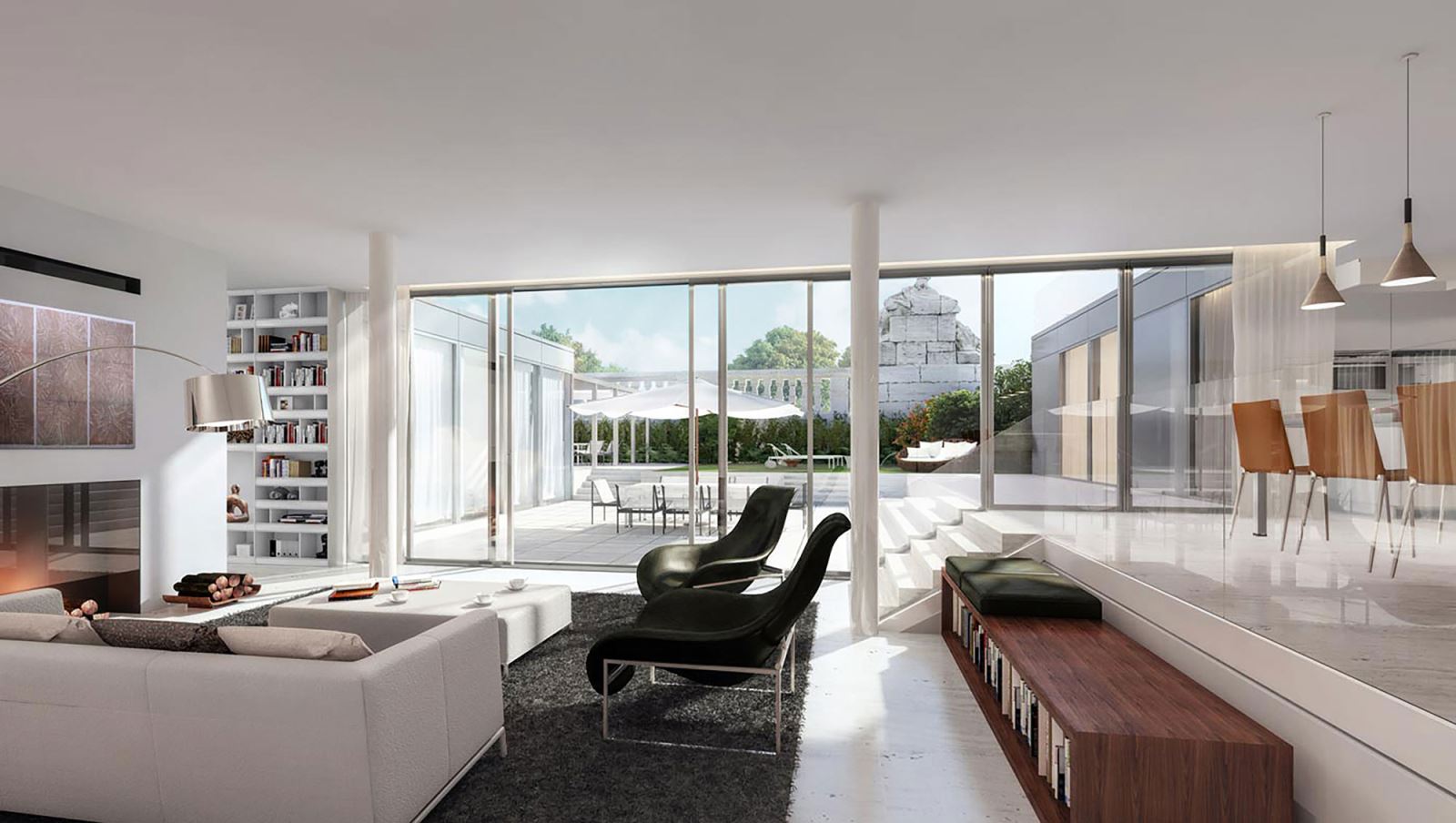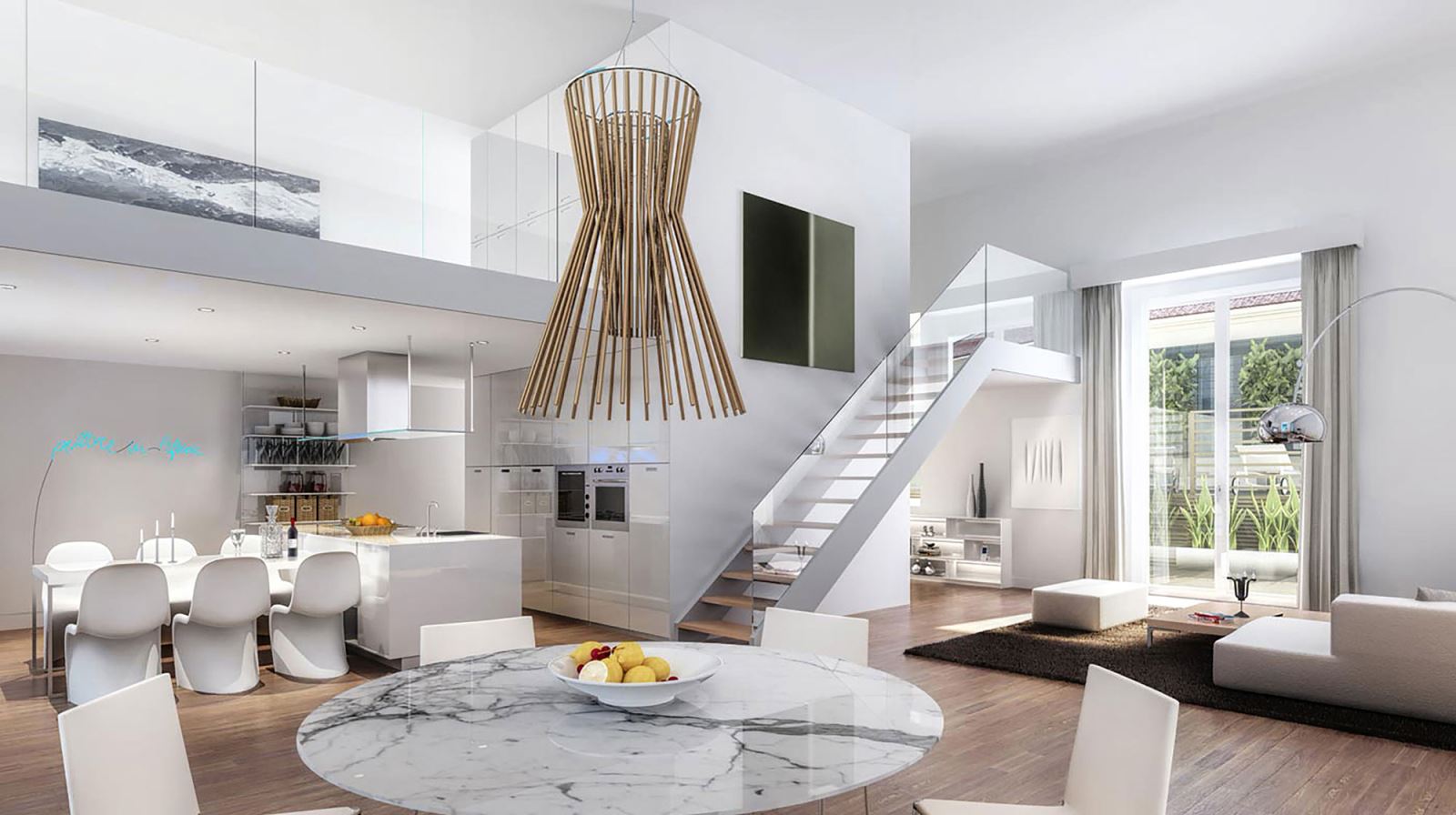 延续高尚生活的主题,这一历史建筑的改造巧妙地重构了空间,既便于新用途又不影响原本建筑的雄伟辉煌与结构。它为长期维修、重构流线、分隔开私人及公共场所、为公寓层加入更深的透明度和轻巧度提供了机会。当代的极简主义细节、几何布局和丰富的材质设计板,与传统装饰形成对比,并突出了它们。捕捉过去,重构现在,该项目将全新的生命力注入旧建筑内,成为古建筑改建的典范。
Continuing the theme of Living Supreme projects, this intervention in the historical building involves careful spatial reconfiguration to optimize the historical frame-work for new users without affecting its grandeur and structure. It gives opportunity to consider long-term maintenance, circulation, separate private and public access points and introduce greater degrees of transparency and lightness for the residential floors. Contemporary minimal details, efficient layout and rich material palettes contrast, enhance and thus celebrate the classical ornamentation and scale. By capturing the spirit of its historical past, while reconfiguring its spaces for contemporary use, the project infuses a new life into the property, regenerates the neighbourhood through its extensive program and provides a model for heritage interventions.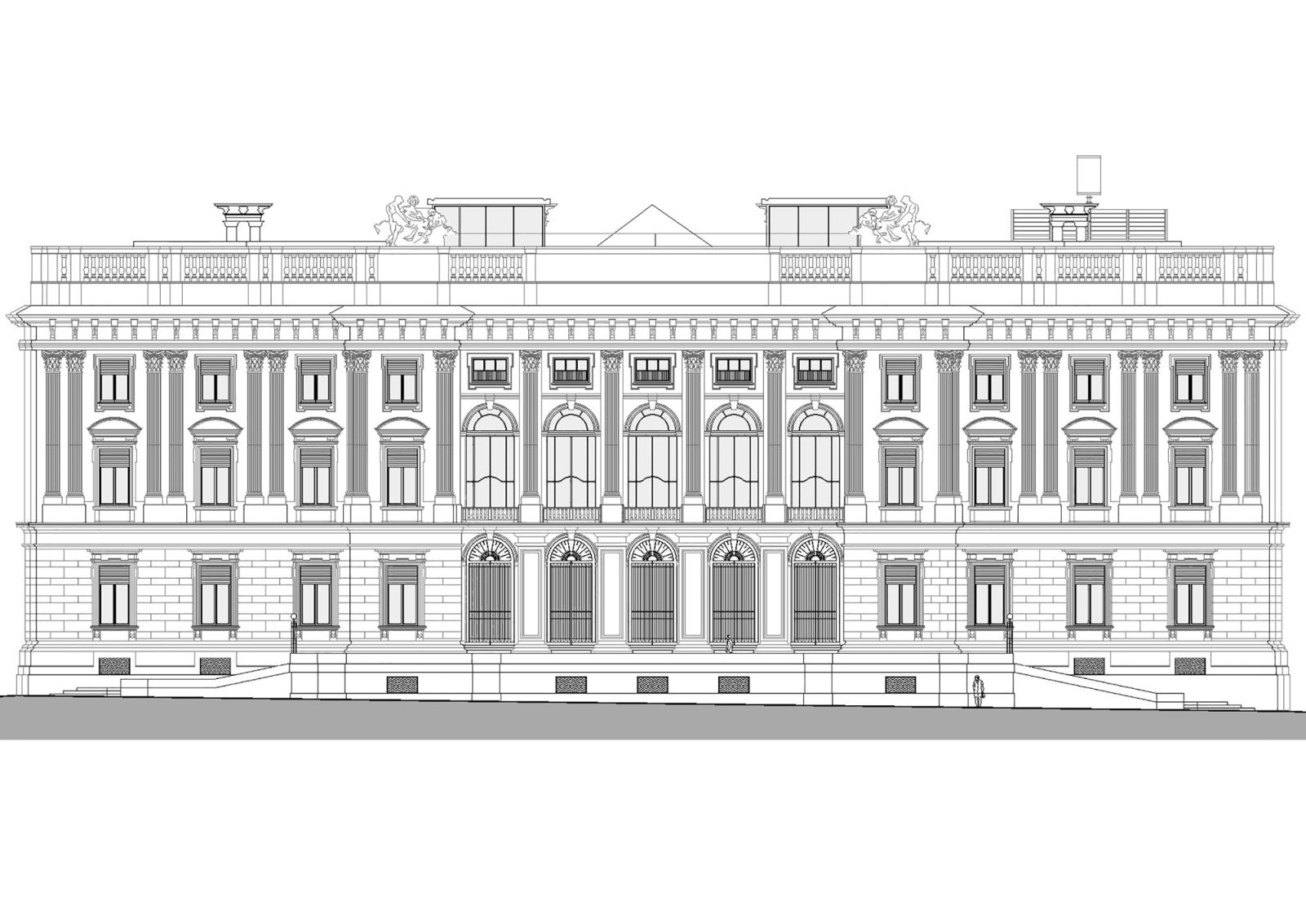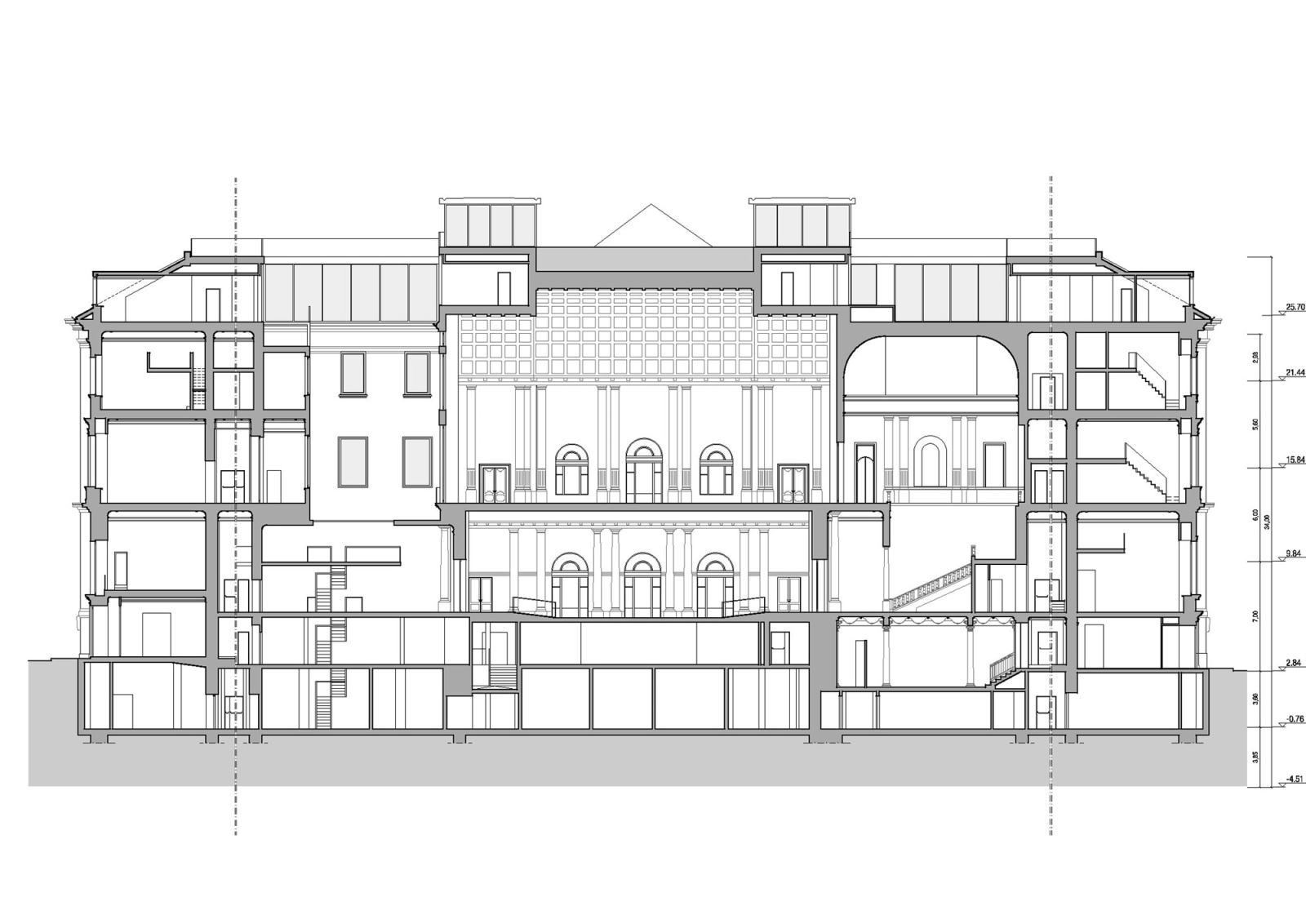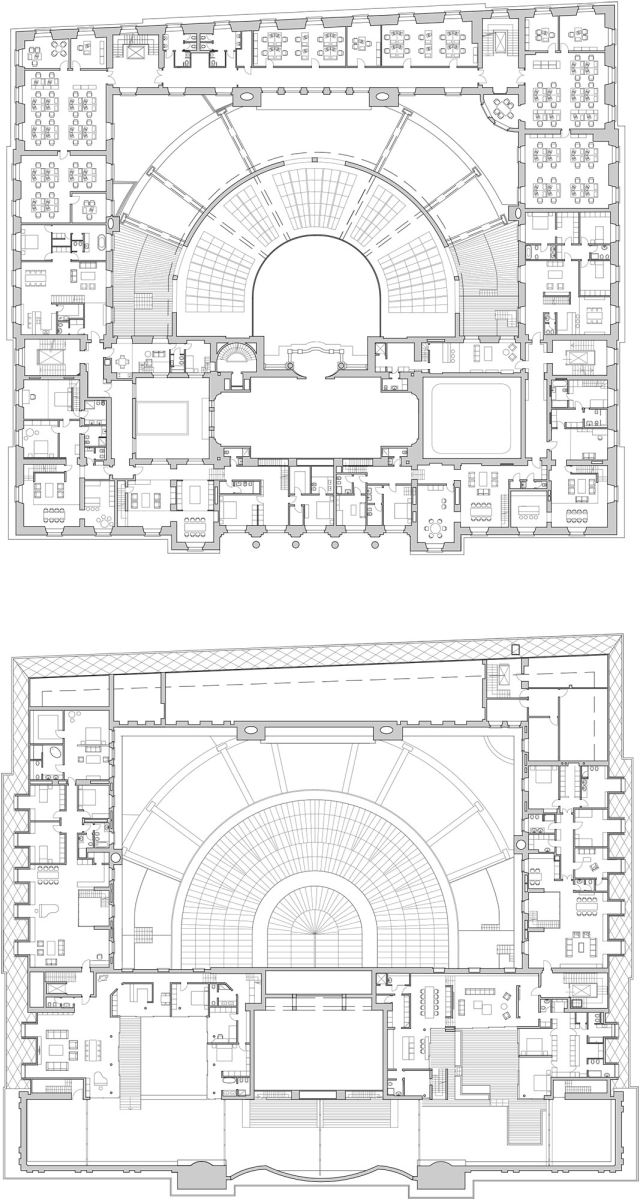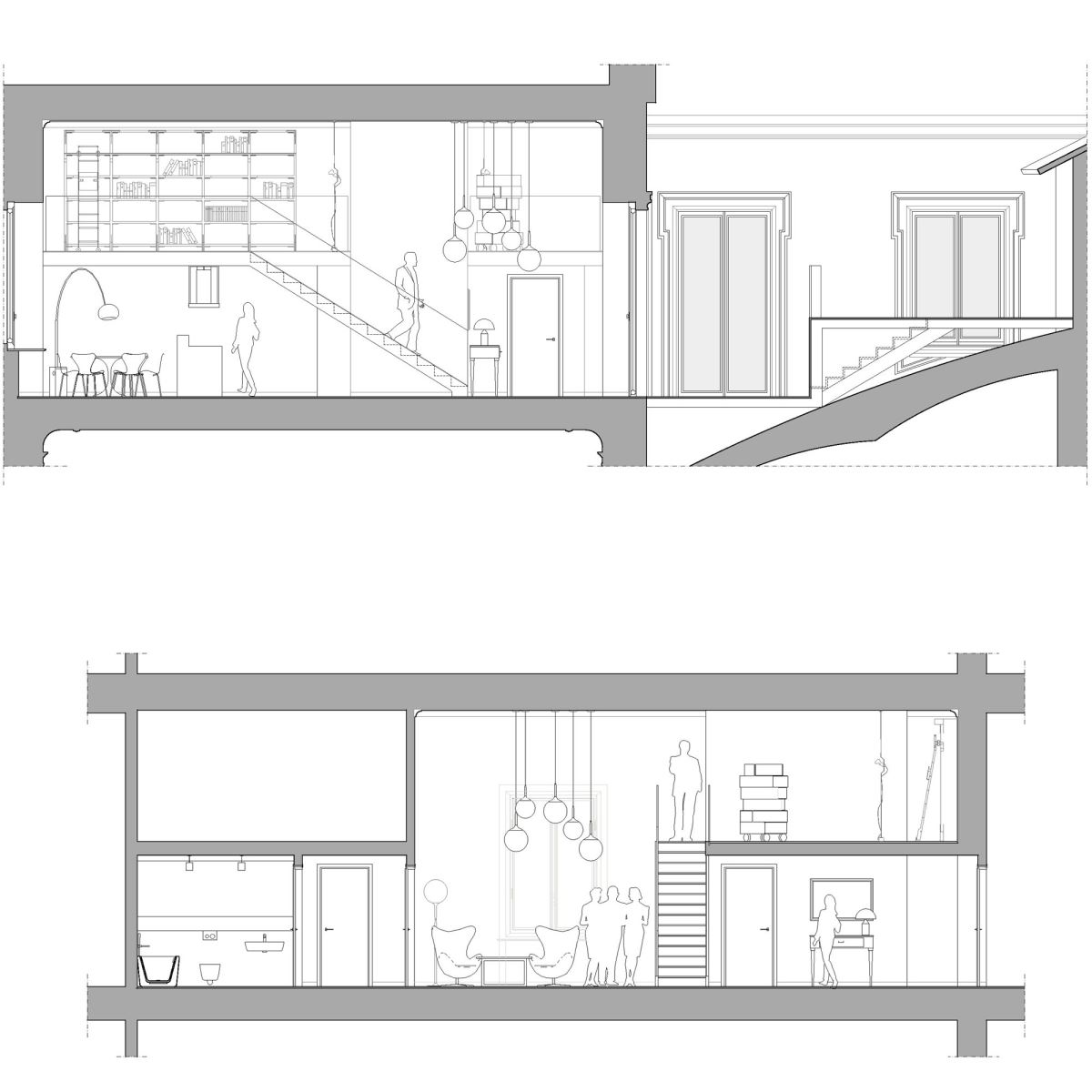 项目名称:都灵卢斯黛拉宫
设计单位:耶格卡恩建筑设计(深圳)有限公司
地点:都灵,意大利
客户:Val