集屿:日常9㎡
集屿:日常9㎡ / 一乘建筑
JOYS by Onexn Architects
集屿 JOYS © 李金辉 Li Jinhui
集屿 JOYS © 一乘建筑 Onexn Architects
"建筑意味着把一个场地转变成具有特定性格与意义的场所。设计就是造就场所。换句话说,场所是有清晰特性的空间,人必须要能体验到环境是充满意义的。"
—— 诺伯尔·舒尔茨《场所精神-迈向建筑现象学》
"Architecture means to transferring a site to a place of distinct character and meaning. Design is to create places. In other words, a place is a space which has a distinct character. Man can experience the environment as meaningful."
—— Genius Loci: Towards a Phenomenology of Architecture
by Christian Norberg-Schulz
01
范式:小尺度与大城市
Paradigm: a small space in big city
9㎡的集屿,是这座城市里,一种新的空间范式的提炼。它并不因其小而匮乏深度,它孕育着理想、思想、生活、文化、和邻里这些要素。9㎡,针对的是城市快速发展中,稀缺的一种空间尺度,它和蓝图、速度、宏伟无关,它是一种小而轻的空间叙事,容易忽视但不可或缺。建筑师在空间现实和社会意义层面找到了介入的视角,9㎡让人和人相互靠近并获得存在的真实感。
Occupying 9 square meters, JOYS is a new space paradigm in the city. It's small, but doesn't lack depth, since it's the integration of ideals, thoughts, cultures, and neighborhood. 9 square-meters is a scarce small spatial scale in the city undergoing rapid development. It has nothing to do with blueprint, speed or magnificence, but is about a small spatial narrative that is easy to be ignored but indispensable. We identified a perspective of intervention by taking into consideration both spatial reality and social significance, intending to endow the 9-square-meter space a sense of existence and enable it to bring people closer.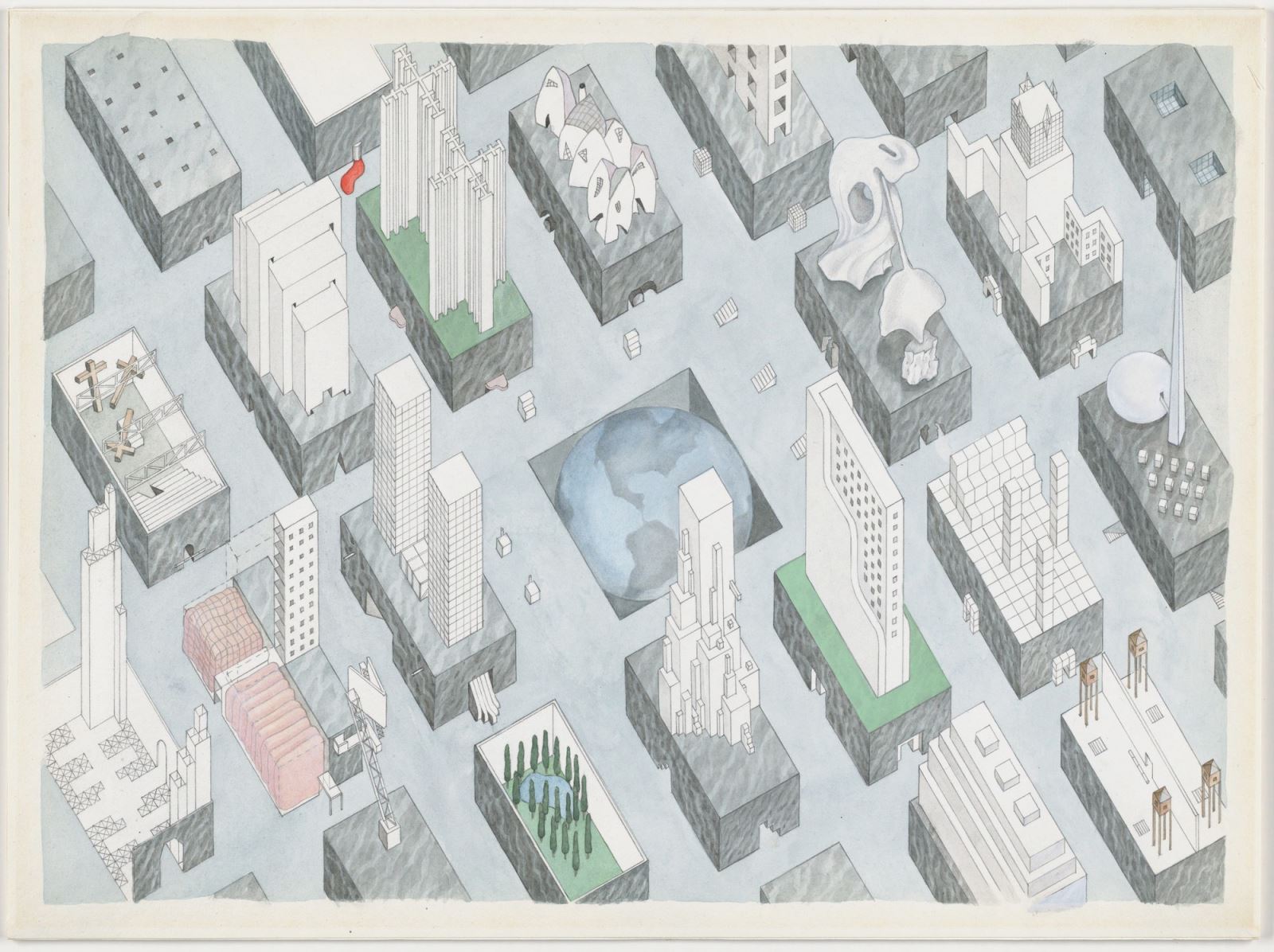 《癫狂的纽约》雷姆·库哈斯(图源网络)Delirious New York by Rem Koolhaas (image from the Internet)
《癫狂的纽约》,这本给曼哈顿补写的宣言写到:宣言的致命弱点是与生俱来的证据缺失,曼哈顿的问题恰恰相反,它有堆积如山的证据,却没有宣言。集屿,在快速的大背景下,作为一种带有理想和关怀的空间载体最终落地,它为城市日渐衰退的社区氛围,做出了一定诠释和补充。
In Delirious New York, a retroactive manifesto for Manhattan, it reads that "The fatal weakness of manifesto is their inherent lack of evidence. Manhattan's problem is the opposite: it is a mountain range of evidence without manifesto."Under the backdrop of rapid urban development, JOYS, as a space that carries ideals and care, was eventually implemented as an interpretation and supplement of the community atmosphere that has been on the decline.
《找回趣味之城》 "Recapture the Interest of City" © 一乘建筑 Onexn Architects
《找回趣味之城》在描绘城市里的大街小巷,我们想寻找雅各布斯写过的街道尺度和邻里安全监督的意义,这些空间不像那种街块簇拥下,覆盖着层层建筑魅影的都市意向,它们有自己的个性和张力,或是公共空间、或是可触可及的景观屋面,而集屿就在这其中。
In the drawing "Recapture the Interest of City", we depicted the avenues and alleys in cities, and tried to look for the street scale and the significance of neighborhood safety supervision which Jane Jacobs wrote about. Unlike those street blocks that are covered by building shadows, the spaces outlined in this drawing are endowed with their own features and tension, either being public spaces or landscape rooftops that are visible and accessible. Joys is part of them.
热门推荐