杭州浦乐幼儿园杨家墩分园
杭州浦乐幼儿园杨家墩分园
Hangzhou Pule Kindergarten Yangjiadun Branch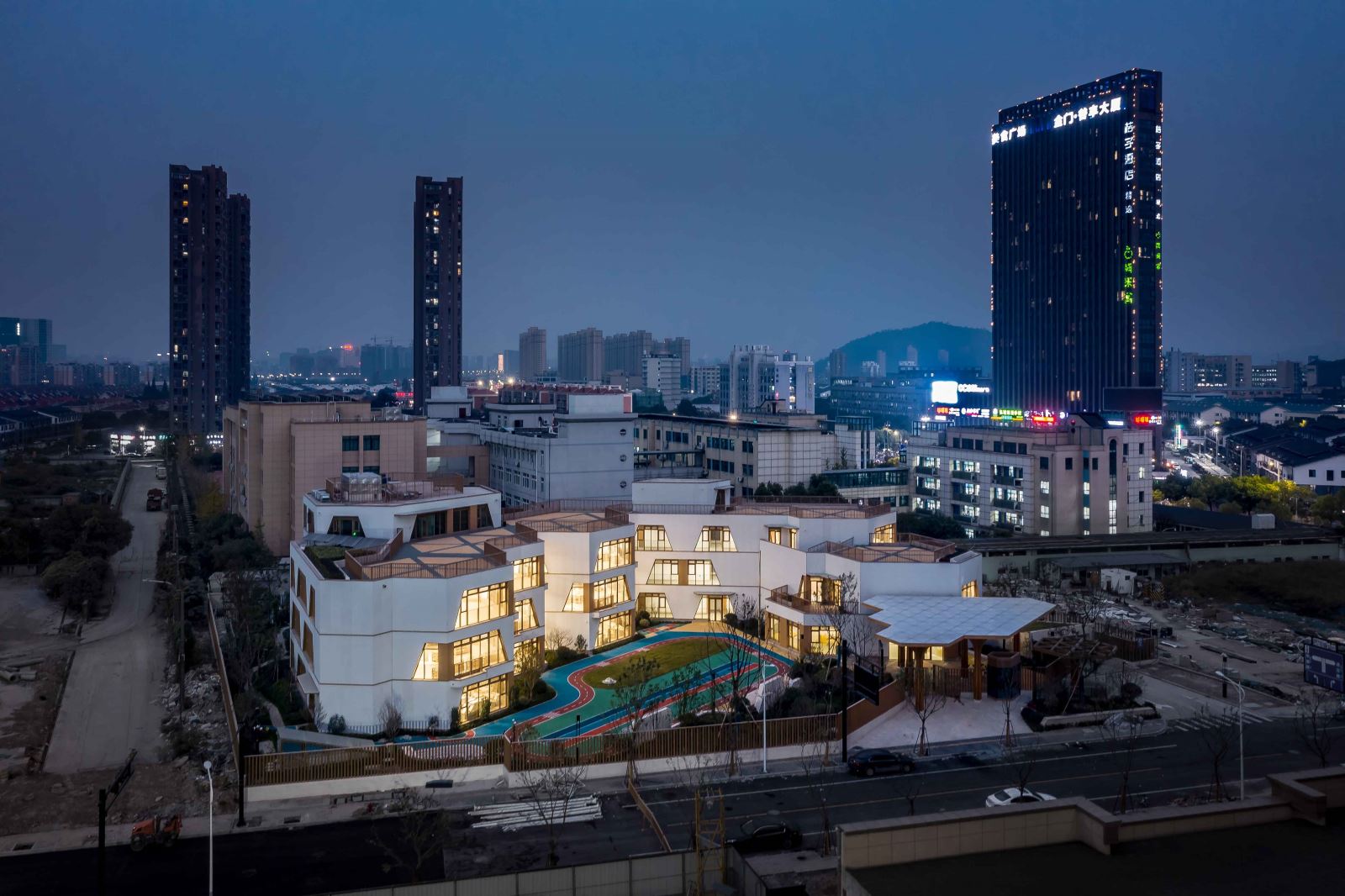 幼儿园位于杭州市滨江区,总建筑面积约7800㎡。滨江区作为一个拥有包括阿里巴巴等众多高新科技产业的地区,其实力在杭州各区的排名中日益增强,近年来对于教育设施的标准也不断攀升。在这样一个享受着科技进步所带来的红利、发展势头正盛的新兴城市片区,如何体现教育建筑的当代感,是建筑师要回答的第一个问题。最终,建筑师试图在有限的工期与造价条件下,以模块化构思结合快速建造方式来完成一座"吸引人"的幼儿建筑。
The kindergarten is located in Binjiang District, Hangzhou, covering a total area of nearly 7,800 square meters. As an area with numerous high-tech industries like Alibaba, the rising ranking of Binjiang District among all districts in Hangzhou is accompanied by the demanding standards for educational facilities in recent years. In an emerging and flourishing urban area that benefits from science and technological progress, the key challenge facing the architects was how to embody the contemporary sense of educational facility. Finally, given the tight schedule and limited costs, the architects managed to construct an "attractive" kindergarten architecture through a modular concept combined with rapid construction.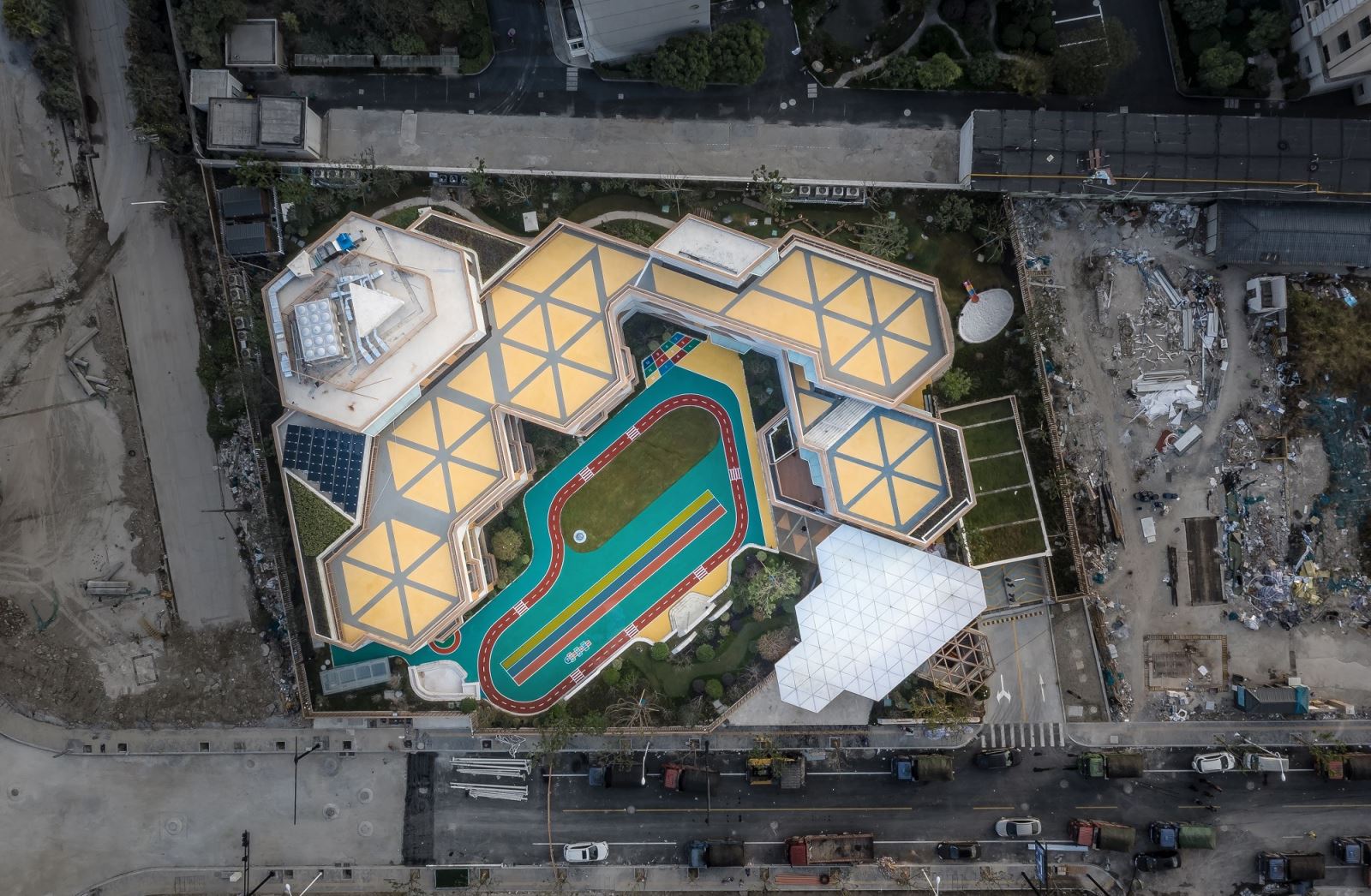 项目鸟瞰 Aerial View of the Project
项目位于一块条件非常苛刻的场地内,根据浙江省《普通幼儿园建设标准B33/1040-2007》,项目的总用地面积、班均用地面积仅为标准值下限的78%;同时,用地周围高层建筑环绕,日照条件并不乐观,菱形的用地形状与正南方向存在60°的夹角,如利用传统的正交网格布局,采光朝向、日照时间和用地效率无法同时达到理想状态。
The project was located in a very demanding site. According to the Standards for Construction of General Kindergarten B33/1040-2007 released by Zhejiang Province, the total land area of the project and average area of its classrooms are only 78% of the lower limit of the standard value respectively. Since it is surrounded by high-rise buildings, its sunshine condition is not that good. There is an angle of 60° between the diamond-shaped building land and due south. If it adopted the traditional orthogonal grid layout, the lighting direction, the sunshine duration and the land use efficiency couldn't be ideal at the same time.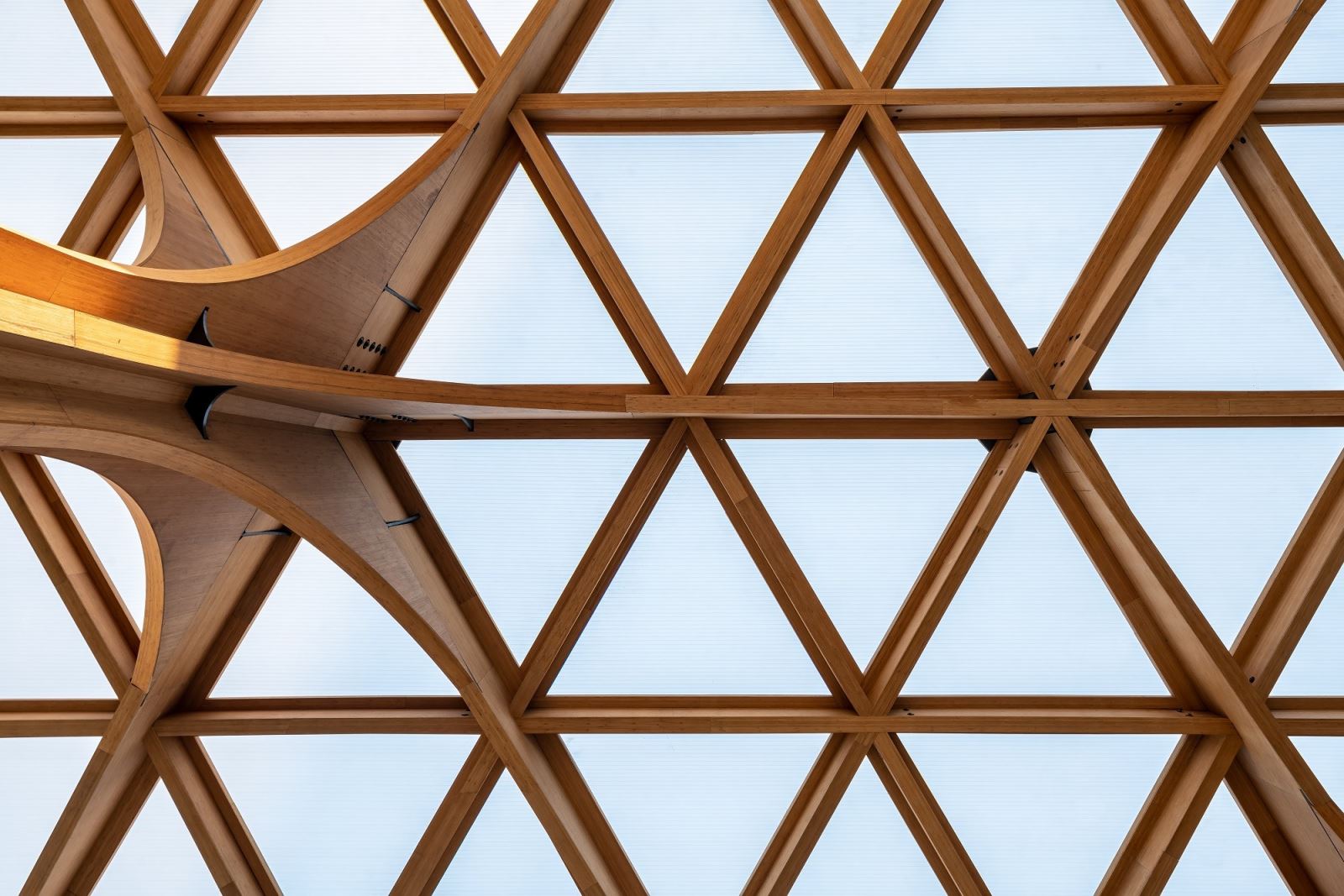 六边形类蜂巢元素 Hexagonal Honeycomb-like Elements
基于此,"六边形"母题成为一种解题思路——这种形状是自然界最常见的形态,具有"完全充填"和"最具效率"的双重优势。六边形类蜂巢的组合顺应场地的斜角,能够最大程度获取采光,兼顾良好朝向、日照时数与场地的贴合率等多项需求。
In view of this, the "hexagonal" motif became a way to solve problems, as it is the most common shape in nature and has the dual advantages of "complete filling" and "highest efficiency". The combination of hexagonal honeycombs conforms to the oblique angle of the site to introduce lighting to the maximum extent. What's more, it also takes into account several requirements like favourable orientation, sunshine duration and site fitting rate.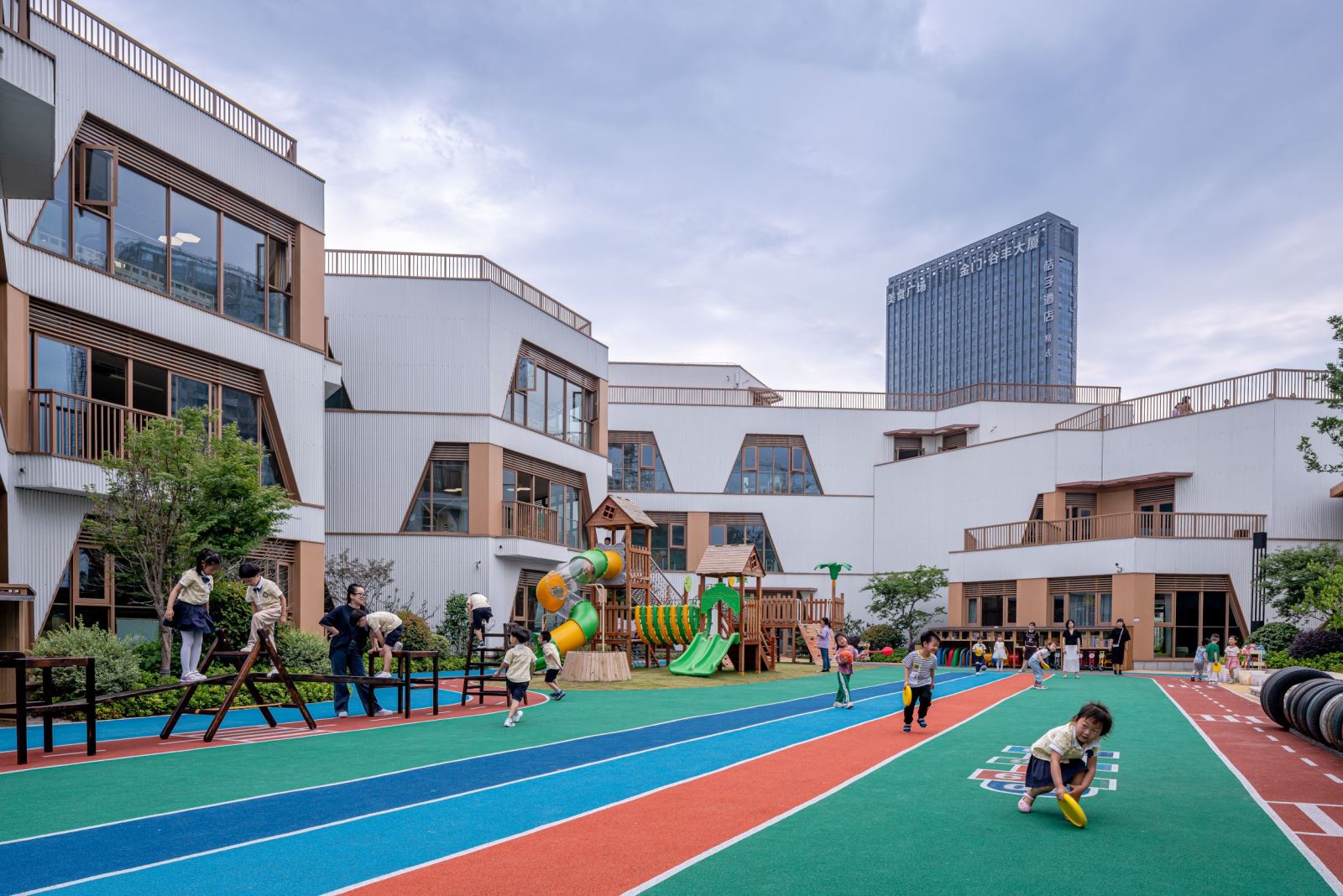 幼儿园内景 Interior of Kindergarten
六边形母题带来很多非直角空间,这些空间正符合幼儿乐于探索和嬉戏的天性。为进一步打破单调的走廊模式,一条曲曲折折的"活动带"作为骨架应运而生,联系着各个空间单元,"活动带"上布局了大量不同尺度不同形状不同私密性的交往空间,鼓励幼儿探索和交流。
The hexagonal motif created a lot of non-right-angle spaces, thus fitting into the nature of children who are fond of exploring and playing. In order to further break the monotony of the corridor design, a zigzag "activity zone" emerged as the skeleton of building, which connects spatial units and provides a large number of communication spaces of different sizes, shapes and privacy, aiming at encouraging children to explore and communicate with others.
天台活动空间 Activity Space on Rooftop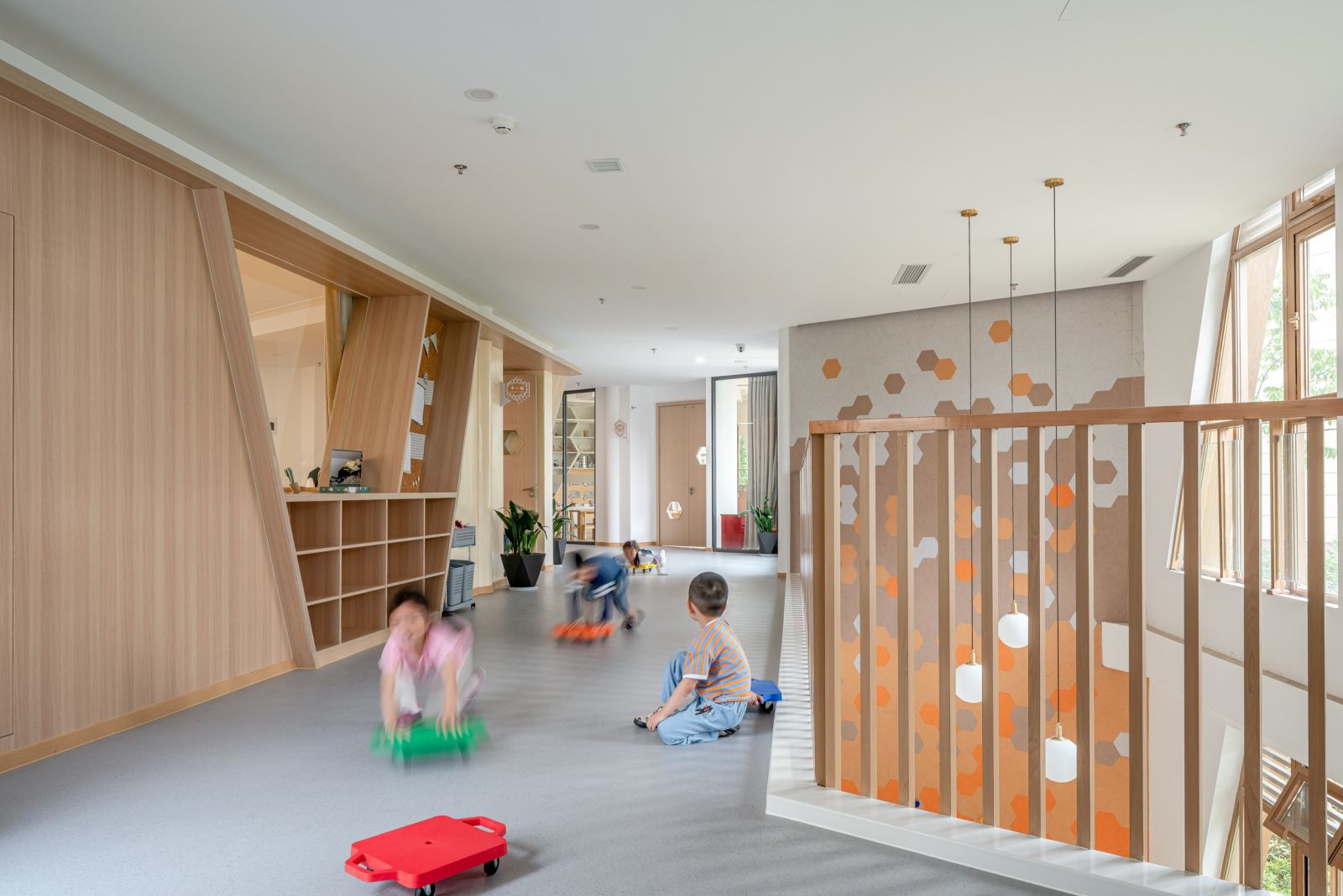 楼梯拐角活动空间 Activity Space in Stair Corner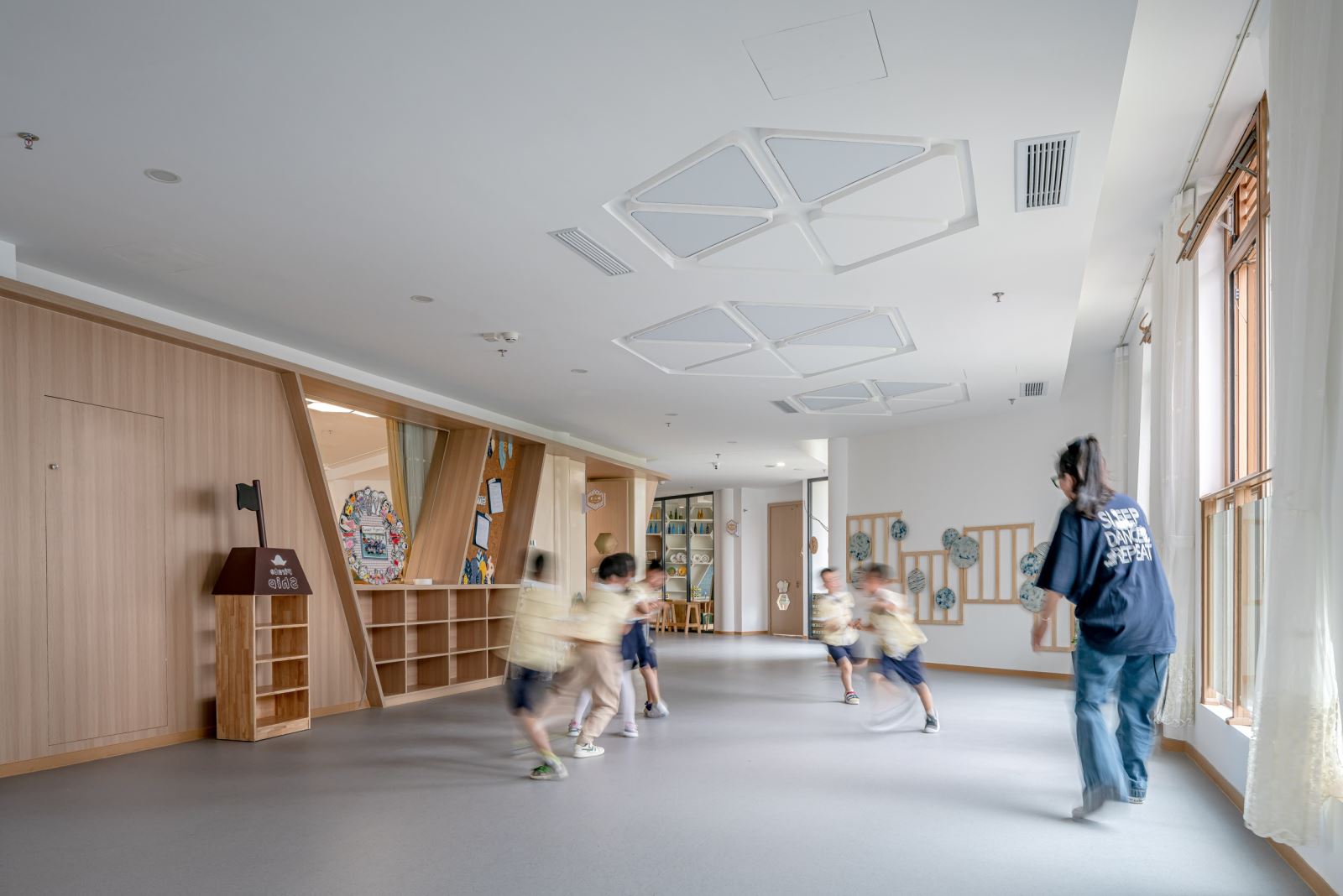 室内公共活动区域 Indoor Public Activity Space
另一方面,为保证幼儿在局促场