西安曲江艺术中心
gad作品 | 悬浮的视界,西安曲江艺术中心
gad works | Floating Horizon, Xi'an Qujiang Art Center
当居住不再只是居住本身,而与城市功能有更多的关联,生活也将被谱写得更具多样性。曲江印社区综合体位于西安市曲江新区,规划设计中贯穿城市设计的思维,却突破现有城市网格,更具完整性的诠释现代生活的广度与纵深,从公寓、酒店、商业、办公到展示空间,将社区生活与多元现代场景在城市尺度中相互糅合,而曲江艺术中心作为曲江印地块核心空间,象征着社区连接城市的现代宣言。
When living is no longer just living itself, but more related to city functions, life will become more diversified. Qujiangyin community complex, located in Qujiang New District of Xi'an city, runs through the thinking of urban design in its planning and design, breaks through the existing city grid, more completely interprets the breadth and depth of modern life, and blends community life and multiple modern scenes in the city scale from apartments, hotels, business, office to exhibition space. Qujiang Art Center, as the core space at Qujiangyin Block, symbolizes the modern Manifesto of community connecting the city.
© shiromio studio
悬浮形态 © CCD
设计起点
Starting Point of Design
如何对待建筑与场地的关系,成为最初设计思考的起点。与场地相邻的南三环是西安一条车流密集的城市快速路,面对这样一条交通脉搏,建筑师预设这样的场景,建筑犹如一个被托向空中的玻璃展品,形成城市道路边独特视觉标识,展馆内的活动也成为展示的一部分,吸引人们走进场地,感受设计的叙事,浏览本身也成为展览发生的一部分。
How to deal with the relationship between the architecture and the site becomes the starting point of the initial design. The South Third Ring Road adjacent to the site is an urban expressway in Xi'an with heavy traffic. In the face of such a traffic pulse, the architect preset such a scene. The building is like a glass exhibit which is held in the air, forming a unique visual sign beside the urban road. The activities in the exhibition hall also become part of the exhibition, attracting people to enter the site and to feel the narrative of design. Then browsing itself also becomes part of the show.
道路与建筑的关系 © shiromio studio
落客区入口 © shiromio studio
其实,展馆与艺术的频繁互动已然发生,就在前不久,毕加索银盘作品展在曲江艺术中心经历了开启与谢幕的过程。
In fact, the frequent interaction between the exhibition hall and art has already taken place. Not long ago, Qujiang Art Center witnessed the opening and closing of Picasso's silver works exhibition.
建筑与场地 © shiromio studio
空间叙事
Space Narrative
抵达场地的过程并不是平铺直叙,而是经历了落差、转折、惊喜与豁然开朗的过程,这与人类的情感体验似乎不谋而合。建筑整体锚固于场地之上,场地与建筑一体化,底部消隐在绿坡之中。
The process of arriving at the site is not a straightforward one, but a process of falling, turning, surprise and suddenly opening up, which seems to coincide with human's emotional experience. The whole building is anchored on the site. The site and the building are integrated with the bottom hidden in the green slope.
© shiromio studio
面对场地与道路十米绿化带的高差,如何抵达场地?景观设计给出了诗意的回答,将城市绿化带的缓坡营造成绸带步道,让坡度感在步道的摆动中"消失",引领走入,漫步体验成为与场地对话的途径,也舒缓的实现场地与城市更为紧密的互动。
Facing the height difference between the site and the 10 meter green belt of the road, how shall people reach the site? The landscape design gives a poetic answer. The gentle slope of the urban green belt is built into a silk belt trail, so that the sense of slope "disappears" in the swing of the trail, leading the walk in. The walk experience becomes a way of dialogue with the site, and also a more close interaction between the site and the city.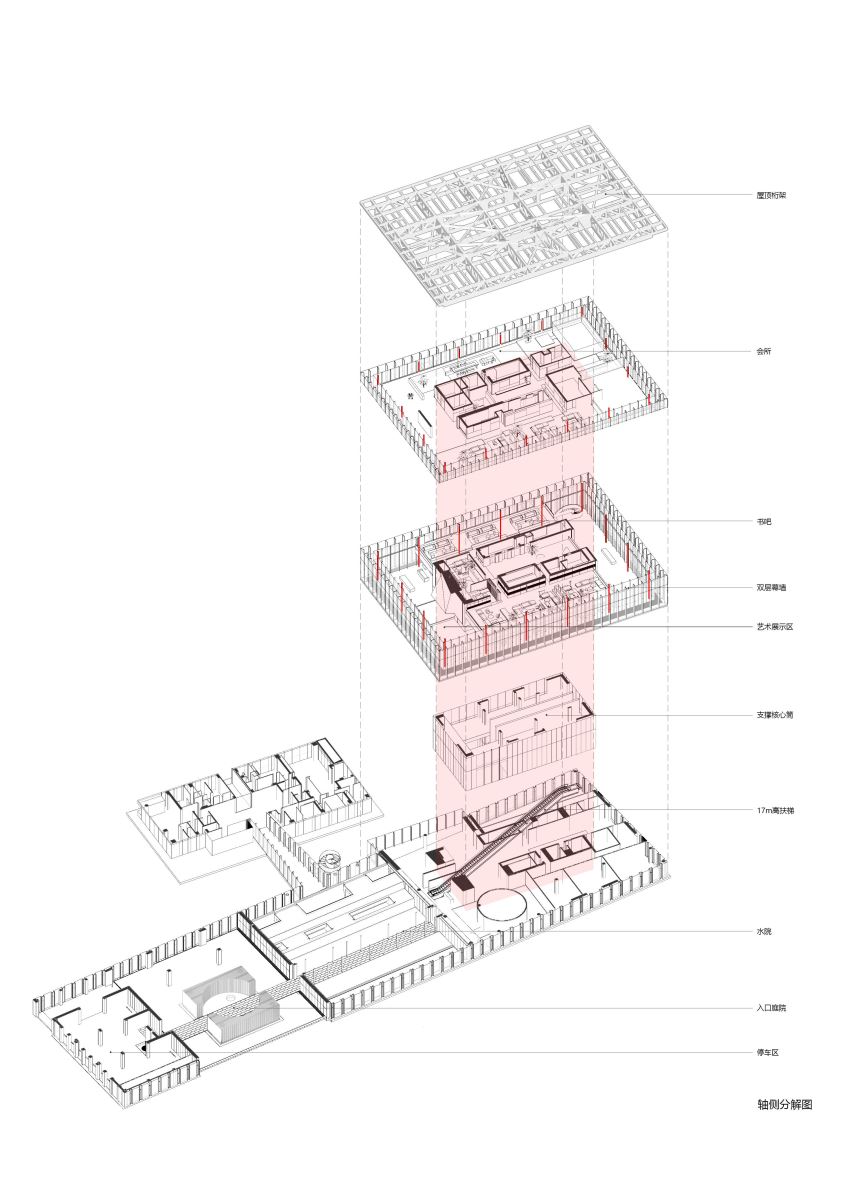 空间轴测图