万科五羊泊寓
Design Description of THE VILLAGE
村城-万科五羊泊寓PORT
道格·桑德斯曾在《Arrival City: The Final Migration and Our Next World》一书中指出落脚城市(也就是城中村)的发展是城市化进程中的关键一环,可能是下一波经济与文化的诞生地,也可能是下一波暴力冲突的爆发地,需要我们妥善处理。
In his book Arrival City: The Final Migration and Our Next World, Doug Saunders points out that the development of the arrival city (also known as urban village) is an important part in the urbanization process. It may be the birthplace of the next wave of economic and cultural development, or the explosive place of the next wave of violent conflicts, which needs to be properly handled.
本次改造的项目便是位于广州市越秀区寺右二马路上的一处知名的城中村。这一区域聚居了大量的年轻上班族,人口密度极高 © TEAM_BLDG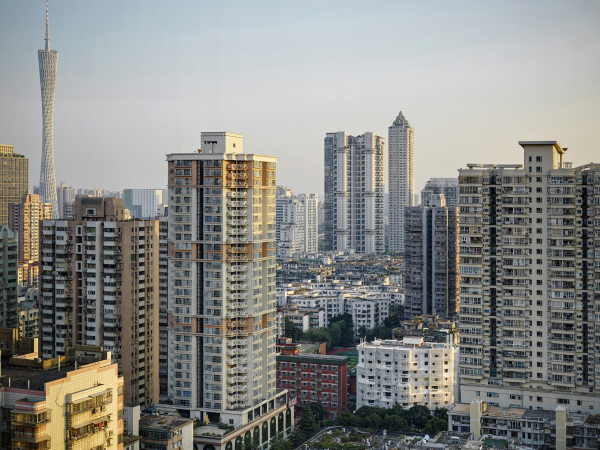 日景鸟瞰 © 雷坛坛
广州是目前唯一仍有大量城中村存在于市中心的一线城市,截至2016年,据不完全统计,广州大大小小的城中村有304条,村域面积共716平方公里,居住人口近600万。正如我们此次改建项目所在的区域,因其优越的地理位置,每年仍有大量外来人口涌入,但他们栖身的居民楼大多残破老旧,居住环境亟待改善。而严重匮乏的资金和错综复杂的周边环境,则是修缮这些老公寓最大的障碍。此次改造我们不仅仅希望解决单个问题,更是希望能够探寻一种可复制的模板,给这种老旧城中村区域提供多一种可能性。
Guangzhou is the only first-tier city where a large number of urban villages still exist in the city center. As of 2016, according to incomplete statistics, there are 304 villages in Guangzhou, with a total area of 716 square kilometers and a population of nearly 6 million. Just like the area where our renovation project is located, due to its superior location, a large number of migrants still flow in every year. However, most of the residential buildings they live in are dilapidated, facing the urgent need to be improved its living environment. A severe lack of funds and intricate surroundings are the biggest obstacles to the renovation of these old apartments. In this architectural renovation, we hope not only to solve a single problem, but also to explore a reproducible template to provide an additional solution for this old urban village area.
夜景鸟瞰 © 雷坛坛
Bustling urban village
喧闹城中村

作为广州市区面积最小、人口密度最高的中心城区,越秀区目前还存在着许多与高速城市化略显脱节的遗留地。而本次改造的项目便是位于越秀区寺右二马路上这样的一处知名的城中村。
As the central urban area with the smallest area and the highest population density in downtown Guangzhou, Yuexiu district still has a lot of urban villages, remnant areas slightly disjointed with the high-speed urbanization. The renovation project this time is located in a well-known urban village at the Siyou Second Road in Yuexiu District.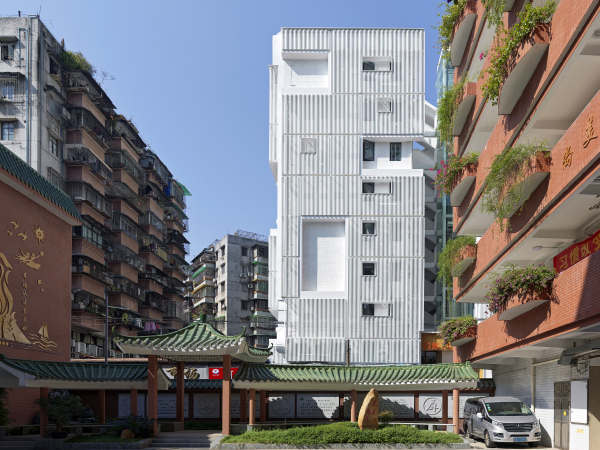 建筑东立面 © 雷坛坛
该城中村内的居民楼基本都是建于上世纪五六十年代的火柴盒式通廊住宅,为了满足实际使用的需要,建筑立面及内部存在不少加建和搭建。绝佳的市中心地理位置,吸引大量的年轻上班族聚居于此,他们享受住在此地的便利交通,同时也想要追求舒适性和设计感,迫切地想要改善居住环境。
The residential buildings in the urban village are basically the matchbox type corridor houses built in the 1950s and 1960s. In order to meet the actual use needs, there are many additions and structures at the façade and inside of the building. With its excellent downtown location and convenient transportation environment, this area is populated by a large number of young office workers. While enjoying living in the city center, they also want to pursue comfort and design, so that they are eager to improve the living environment.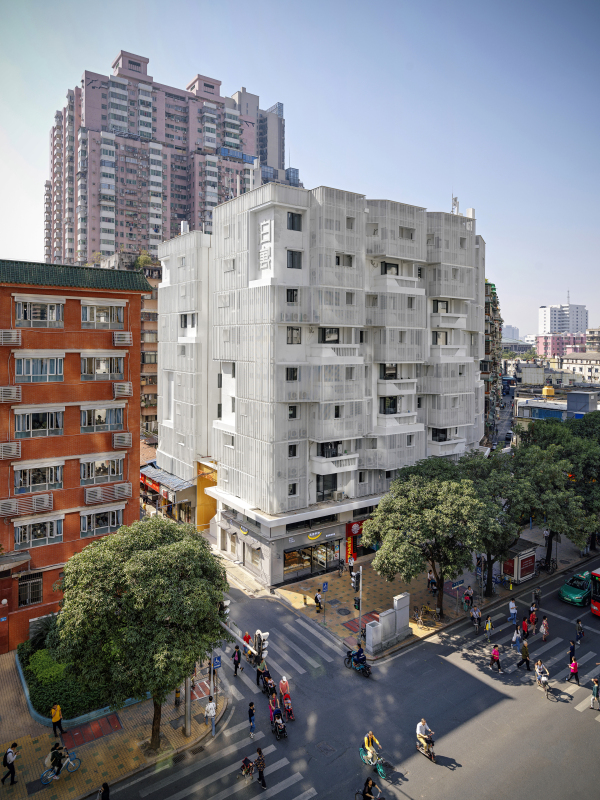 改造后的建筑外立面 © 雷坛坛
本次改造的居民楼周边颇