临平体育公园配套工程项目
临平体育公园配套工程项目 / 筑境设计
Linping Sports Park Supporting Project / CCTN Architectural Design Co. Ltd.
本项目位于浙江省杭州市临平体育公园,旨在为新建成的公园提供配套设施,项目包含了健身中心场馆、室内综合球馆以及休息驿站等建筑。
This Project is in Linping Sports Park, Hangzhou City, Zhejiang Province. It aims to provide supporting facilities for the newly built park, and consists of a fitness center, a comprehensive indoor arena, and rest stations.
体育公园是高密度城市中难得的城市绿洲,它以生态乐跑为主题,场地景观简约流动,开放的草坪,流线型的跑道镶嵌其中;原生态绿植被最大限度的保留下来。
The Sports Park is a rare urban oasis in such a densely inhabited city. Following ecofriendly operation standards, it has a simple and flowing landscape with open lawns and streamlined walkways. The original green vegetation of the space has been preserved to a huge extent.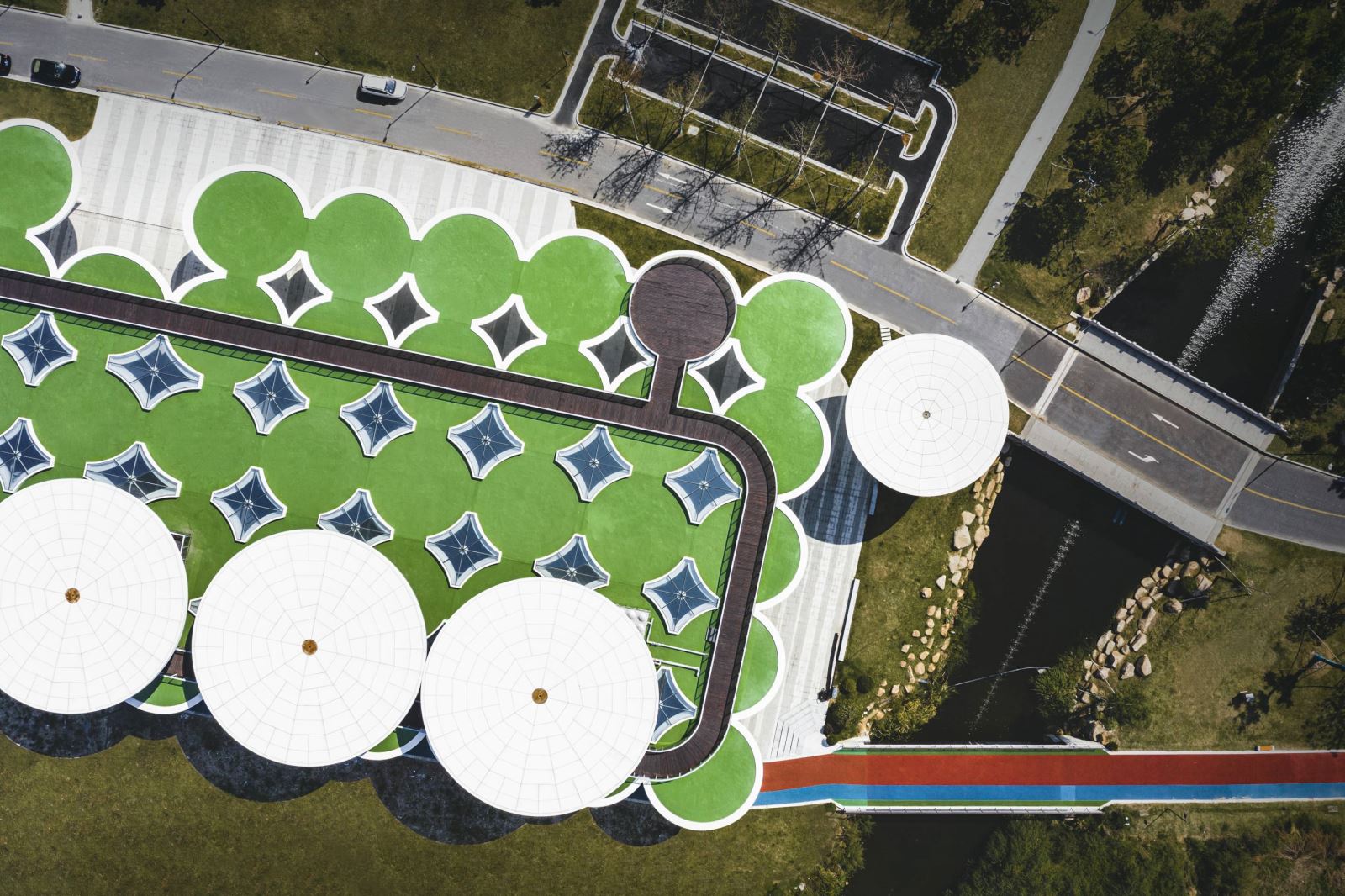 图案形式鲜明的健身中心屋顶 The roof of the fitness center with distinctive patterns © 筑境设计
场馆建筑因其功能需求往往呈现出大体量标志物化的面貌,本项目地处公园之中,功能化的体量过于完整封闭,与公园自然开放的状态格格不入。
Many venues are often used as large-scale landmarks, however, the Project located in the park is closed completely and is not compatible with the park's open nature.
在设计中,我们希望延续体育公园生态、开放、景观化的场所特征,将它以"晕染"的方式向建筑过渡,消解建筑体量,模糊自然与建筑的边界,最终使建筑隐于自然亦或是成为景观本身。
The Sports Park focuses on ecology and a great wide-open landscape, and this will be continued in the design as well in a graded manner, to ensure that there is a flexible connection between the building and the park. To ensure the perfect space, it's important to contract the architectural volume and blur the boundaries between nature and architecture. The architecture will become one with nature and will ideally become a part of the landscape itself.
远望健身中心东侧 East side of fitness center © 筑境设计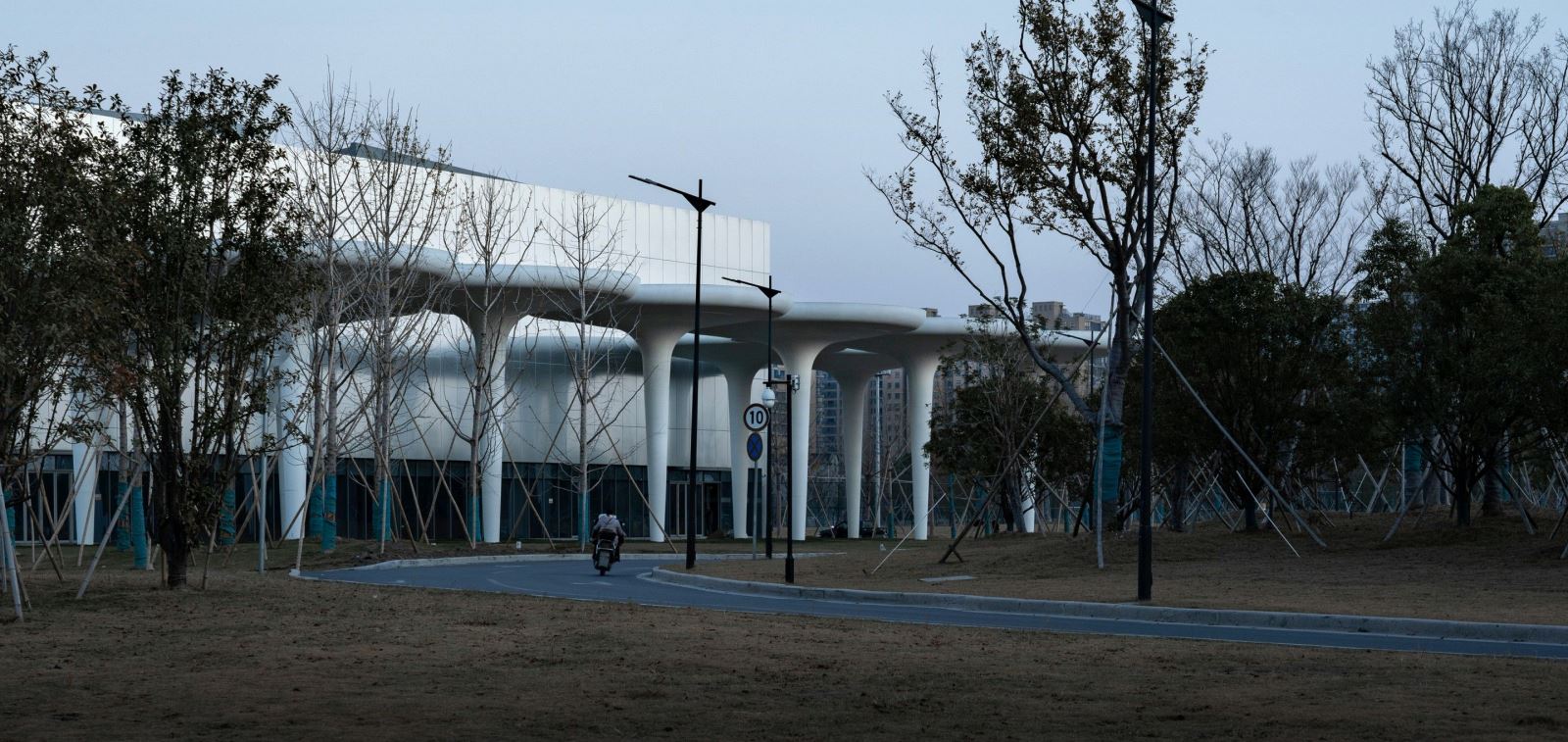 嵌入自然中的 GRC 树林 GRC forest integrated into nature © 筑境设计
以生态、开放、景观化为设计理念,我们选择伞状结构作为建筑的基本单元。单个伞状单元体量感弱且偏景观化,形态鲜明;圆形顶棚庇护下的底部空间,开放自由,与环境高度融合。多个伞状单元相连接,亦可构成特点鲜明的内部空间。
The design philosophy focuses on ecology, landscaping and openness, and an umbrella structure is used as the basic unit of the building. Each umbrella-shaped unit has a distinct shape and does not occupy much space. The lower half formed by the circular ceiling is open and free and beautifully integrated with the environment. Numerous such units come together to form a continuous and yet, distinct interior space.
按照不同的功能需求,伞状单元可灵活组合来适应公园的环境,它既可以是景观化的构筑物,也可以是大空间的功能性建筑。在本次设计中,我们选择了与公园主要树种尺度接近,5m半径9m高度的伞为基本单元,按照功能需求,组合构成运动场馆。
Based on the functional requirements, the umbrella-shaped units can work as a landscaped structure or a functional building offering a large space, and they can adapt to the park's environment appropriately.The design uses umbrellas, which are similar in scale to the main tree species in the park. The radius is around 5 m and the height is around 9 m. These are selected as the basic unit and then based on the functional requirements, they are combined to create the sort of sports venue that is required.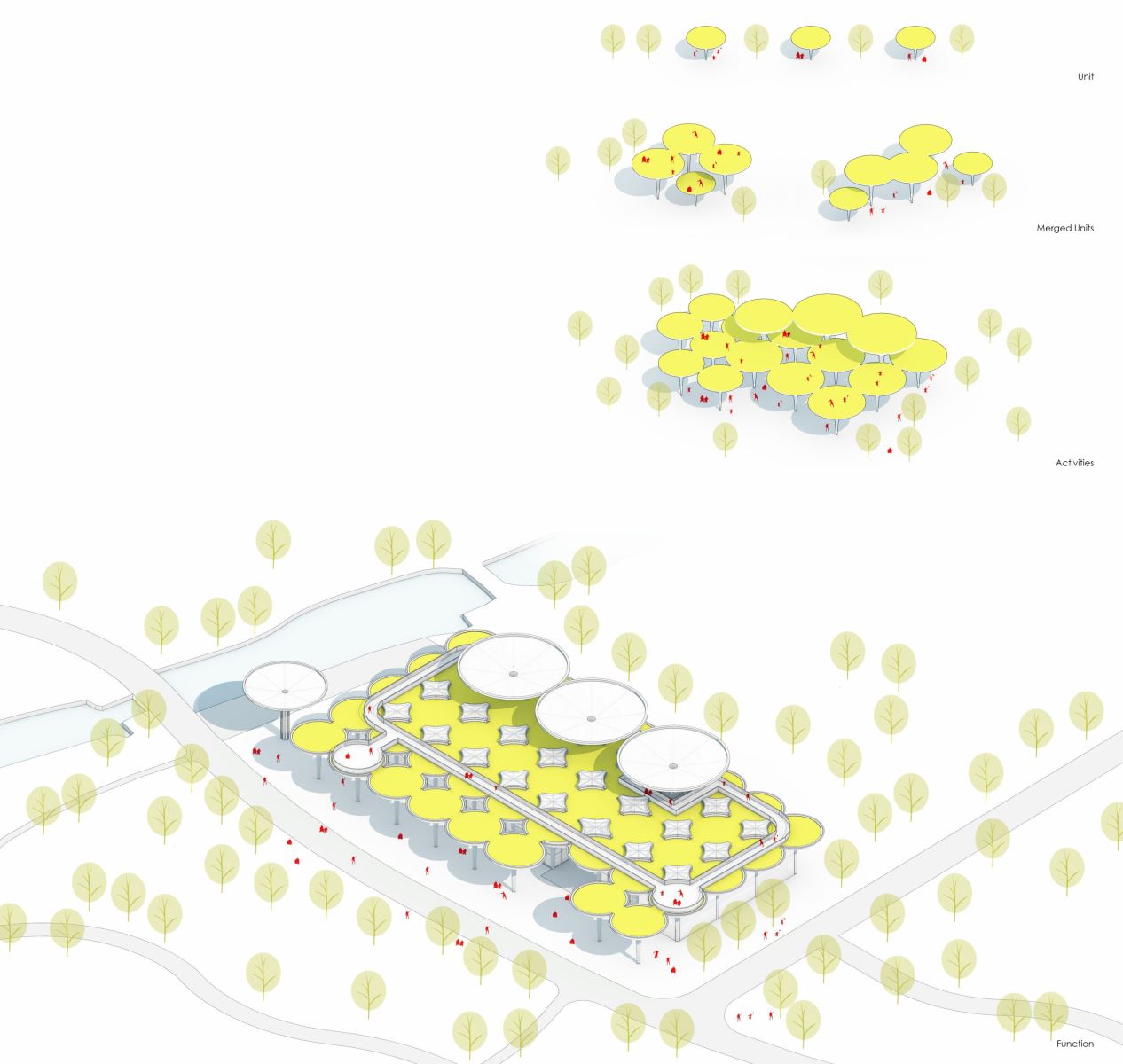 概念生成 Concept © 筑境设计