温州TOD国际新城售楼中心
温州TOD国际新城售楼中心
NAN为TOD国际新城设计的售楼处项目,位于温州大道与永乐路交汇处S1轻轨科技城站旁,是一块未被充分开发的地块。场地被内部通向轻轨的商业街分成南北两个部分,该项目位于其西北侧,面向轻轨,周边是多层次的商业街、地铁站、停车场等功能区域。
TOD International New City sales office is an experimental architecture piece designed by NAN Architects. The project is located next to the S1 Railway Technology City Station, at the intersection of Wenzhou Avenue and Yongle Road. It is an undeveloped land. The site is divided into north and south two parts, by the commercial street leading to the railway. The project is located on the northwest side of the site, facing the railway, surrounded by multi-level commercial streets, subway stations, parking lots and other functional areas. "How to create an organic connection between people and city through porosity is the leading concept of this project.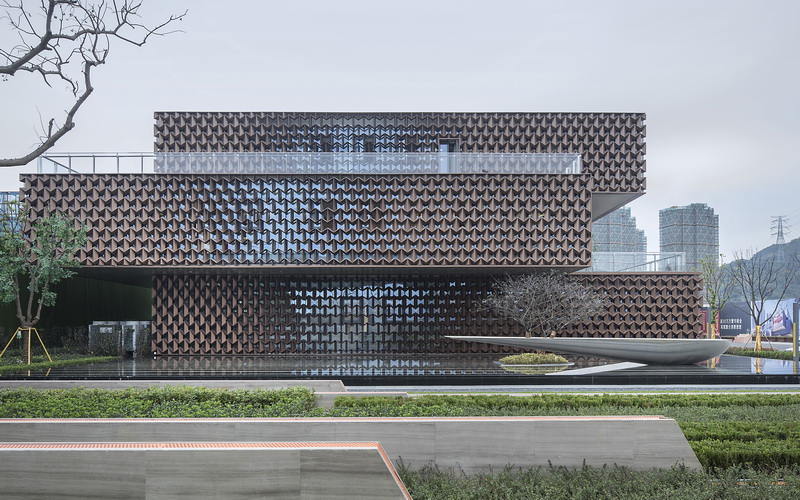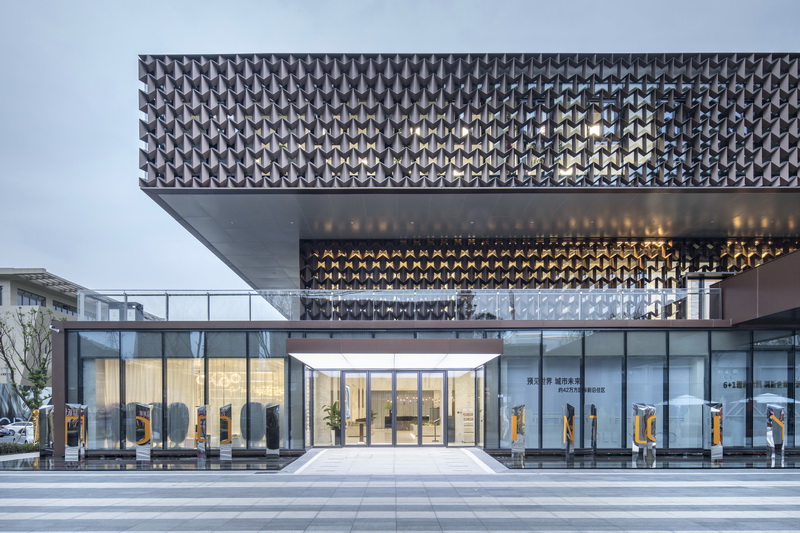 在规则平坦的地块上,项目将三个简洁的盒子通过堆叠和交错,形成了开阔的露台,化解了大体量建筑带来的沉重与压抑感。垂直中庭在体量上增强了建筑与外界的渗透性,让阳光,空气渗透到建筑中来,将人置身于自然之中。
On the flat land, the project adopts the traditional simple box structure. The large box is divided into three flat boxes and then stacked and staggered to form open terraces, which also resolves the heaviness and depression of the large-scale volume. The vertical atrium enhances the permeability of the building, allowing sunlight and air to penetrate into the building, making people surrounded by nature.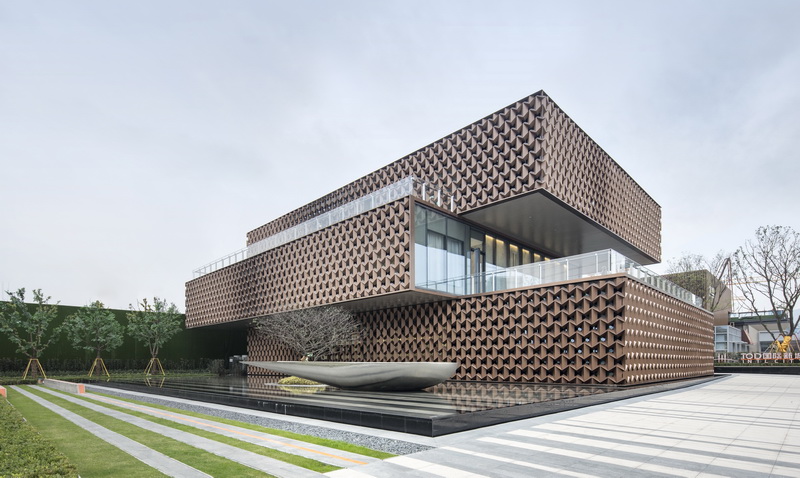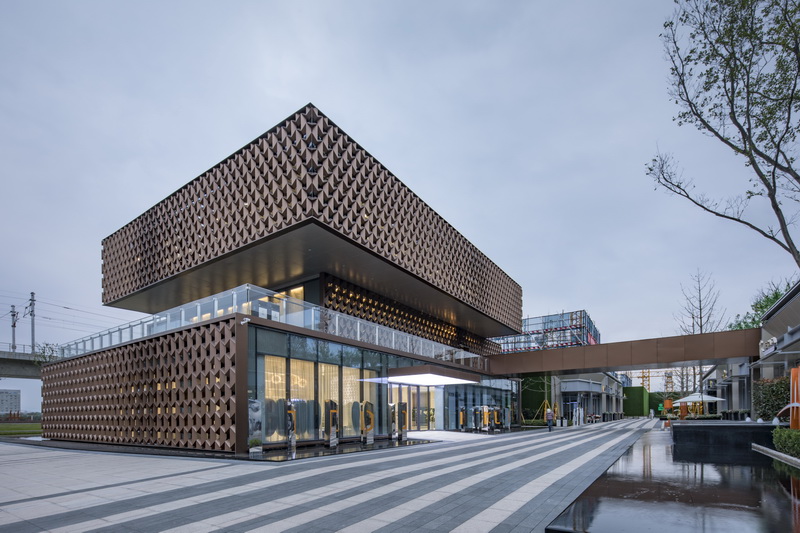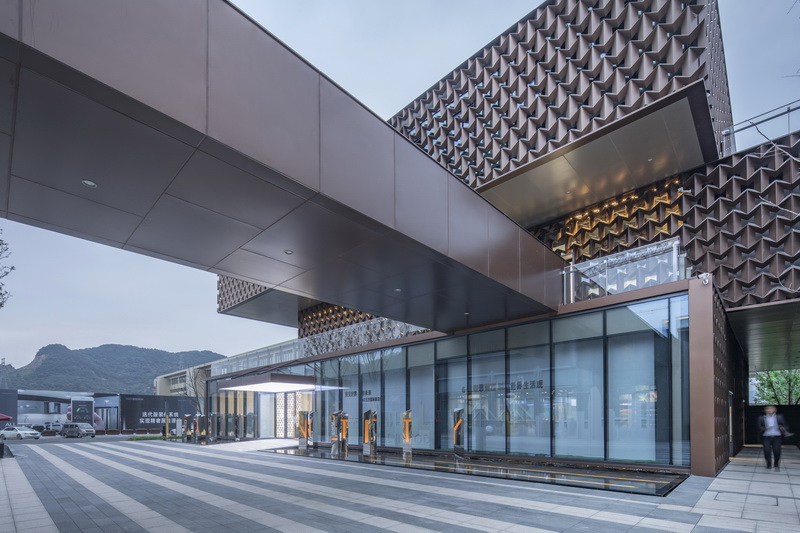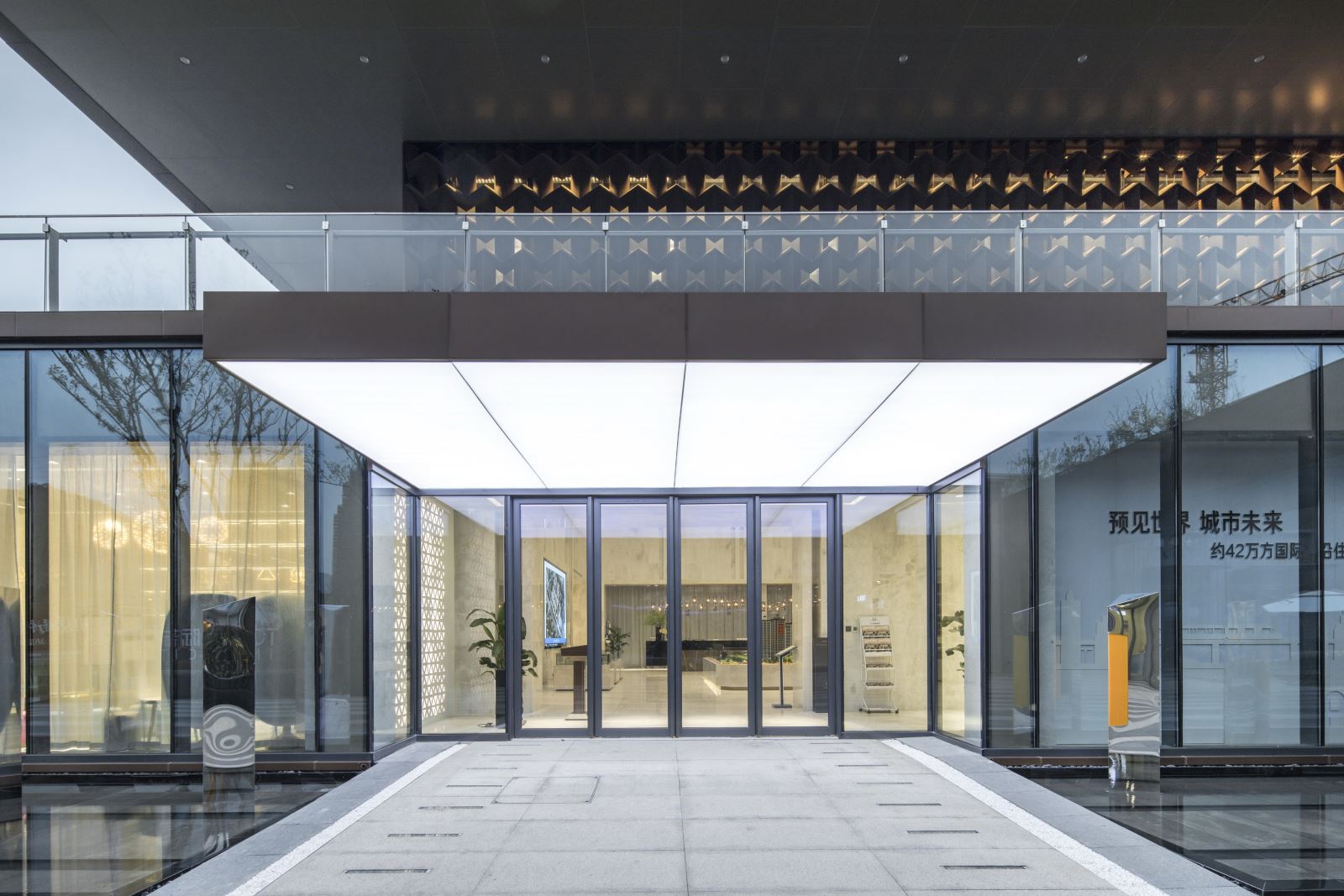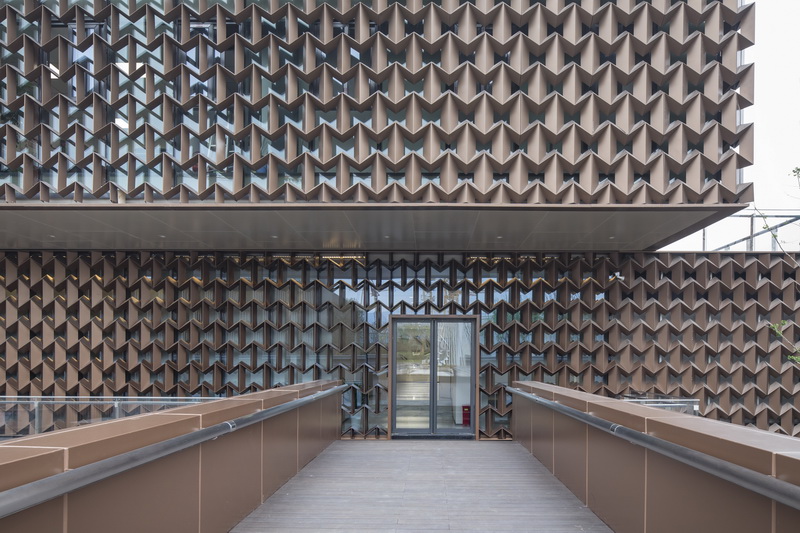 每个盒子的大小相同,并以其独特的外立面图案为特色。镂空的外立面采用金棕色铝板作为材料,以上下内凹六边形为基本单元,每1.2m为一个结构跨度,立面结构自成一体独立支撑。通过六边形的边宽变化创造出的极具节奏感的立面在保证造型的同时也照顾到了通风与光照。外立面上渐变的开合很好地呼应了内部空间开放性,相对开放的空间如模型展览区域,贵宾室和活动中心则对应相对较疏的立面开口,从而增强与外部环境的渗透;而私密空间如办公室、卫生间则对应开口密度相对较低的立面。外立面的有机律动形成了一道光影、城市、街道与人互动的风景,成功将售楼处打造成为城市社区中积极生动的一角,以动感的方式将人与都市有机连接。
Unique façade pattern features the identity of this building. The hollow façade is made of gold-brown aluminum plate. The structure is consisted by well jointed concave hexagon, takes 1.2m as the structure span. The façade structure is self-contained and self-supported. The rhythmic façade created by the change in the width of the hexagons not only ensures the integrity of the building but also well fulfills the ventilation and lighting requirement. The opening and closing on the facade perfectly work in concert with publicity and privacy of the interior space. The relatively public space, such as the model exhibition area, the VIP rooms and the activity center correspond to the sparse façade opening, thereby enhancing the penetration with the external environment; Private spaces such as offices and bathrooms correspond to façades with relatively low opening densities. The organic rhythm of the façade forms a landscape, which intervolves the light, shadow, city, street and people. It has successfully transformed the sales office into an active corner of the urban community, connecting people and the city in a dynamic way.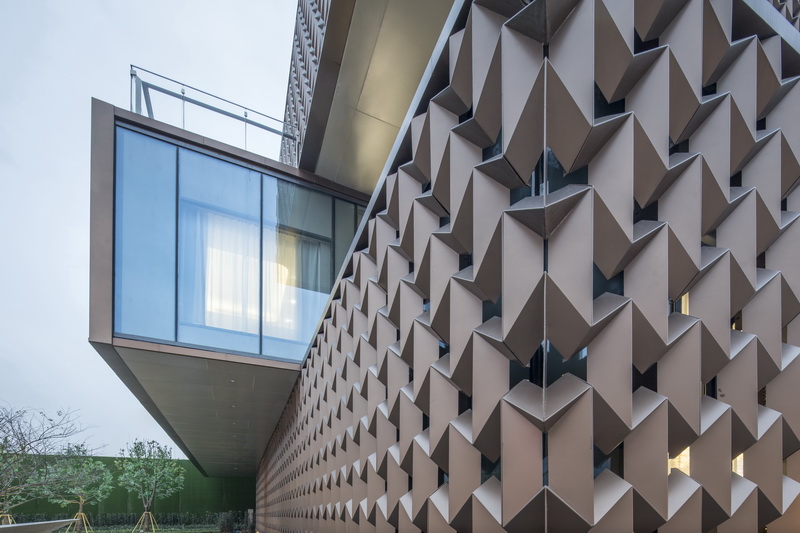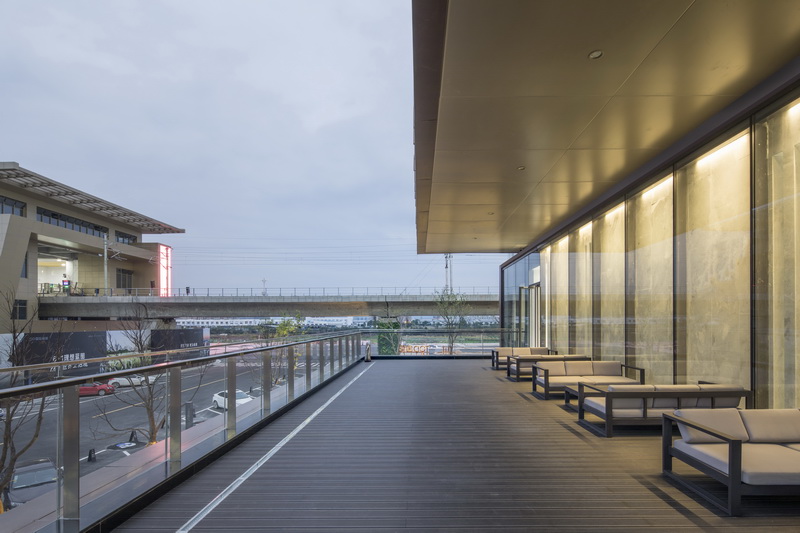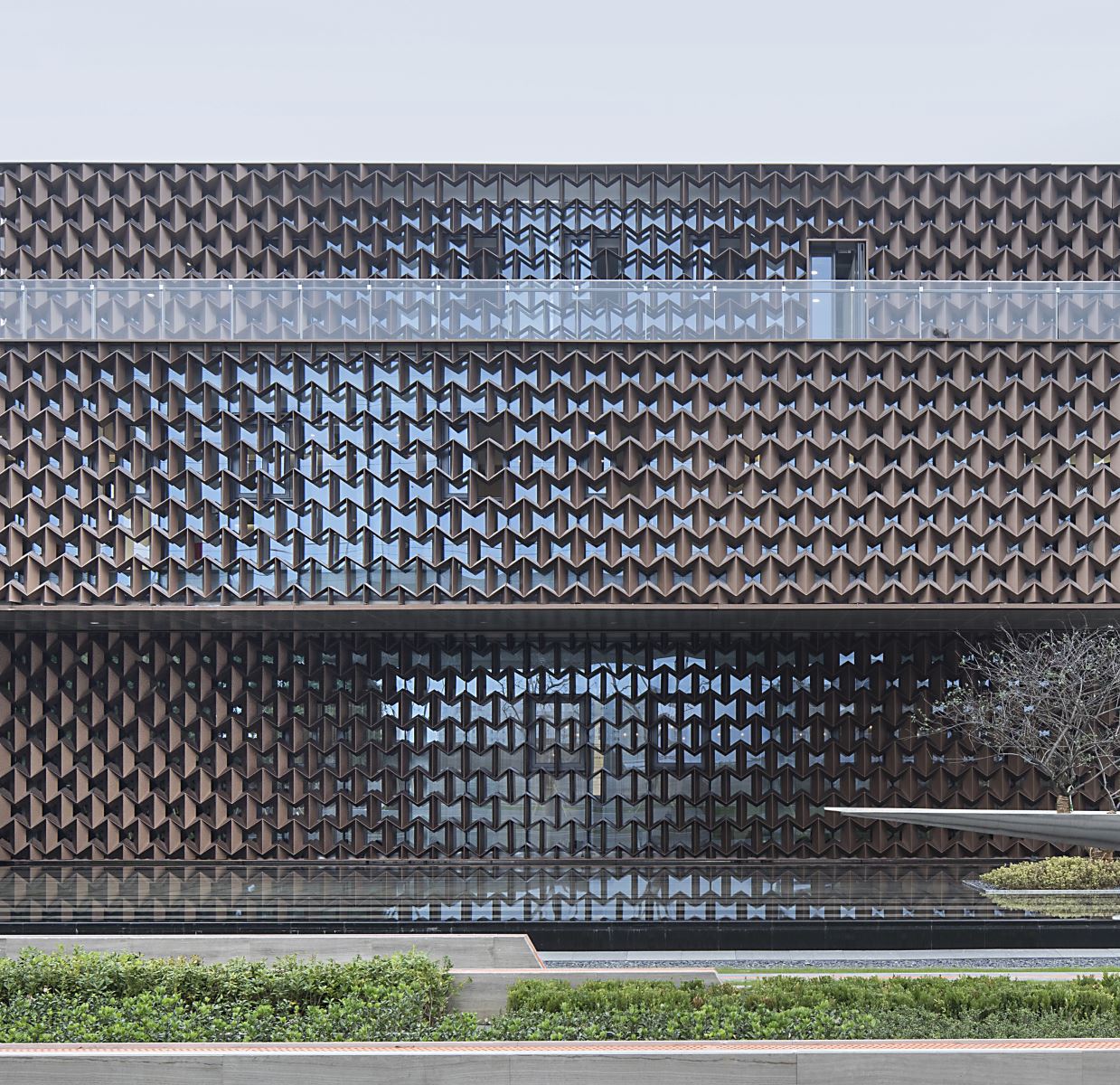 售楼处进门左侧为供客户休憩的咖啡吧,模型展览区位于大厅中庭,并贯通至二层。从楼梯或电梯往上,可到达位于二层的贵宾室和办公室,建筑体块交错形成的露台提供了开放的户外活动空间。三层空间则主要为青少年活动中心和医务室,也兼有户外平台。值得一提的是,由二层露台延伸出去的过街天桥直接从售楼处连通到了样板房,形成了一条独立于底层商业街之上的高效流线。
On the left side of the sales office, there is a coffee bar for customer leisure. The model exhibition area is located in the atrium of the hall and connected to the second floor. Visitors can reach the VIP room and offices through either stairs or elevators. The terraces provide open space for outdoor activities. The third floor space is used as youth activity centers and medical offices, as well as outdoor platforms. It is worth mentioning that the overpass that extended from the second floor terrace connects directly from the sales office to the model house, forming a high-efficiency streamline which is independent from the underlying commercial street.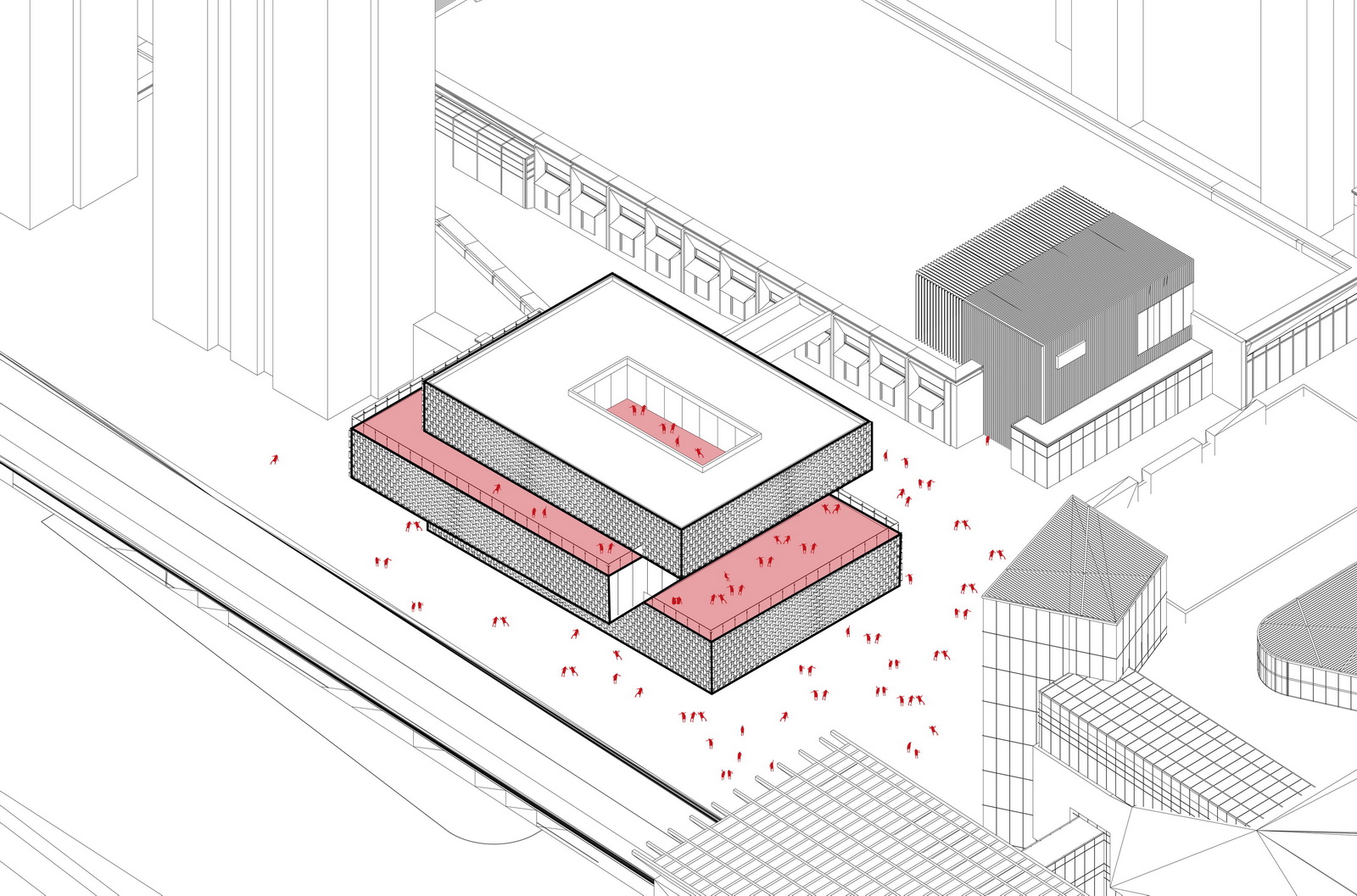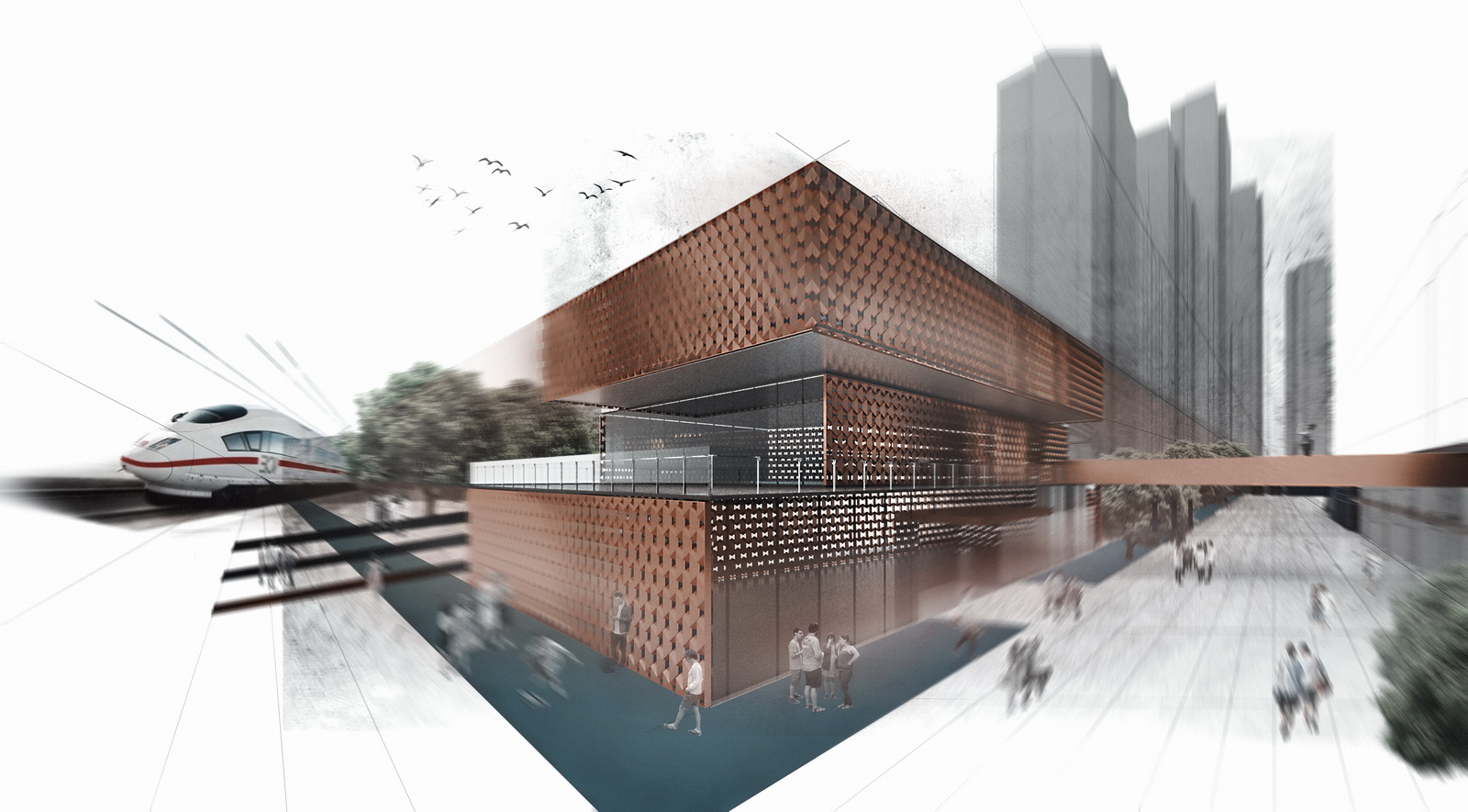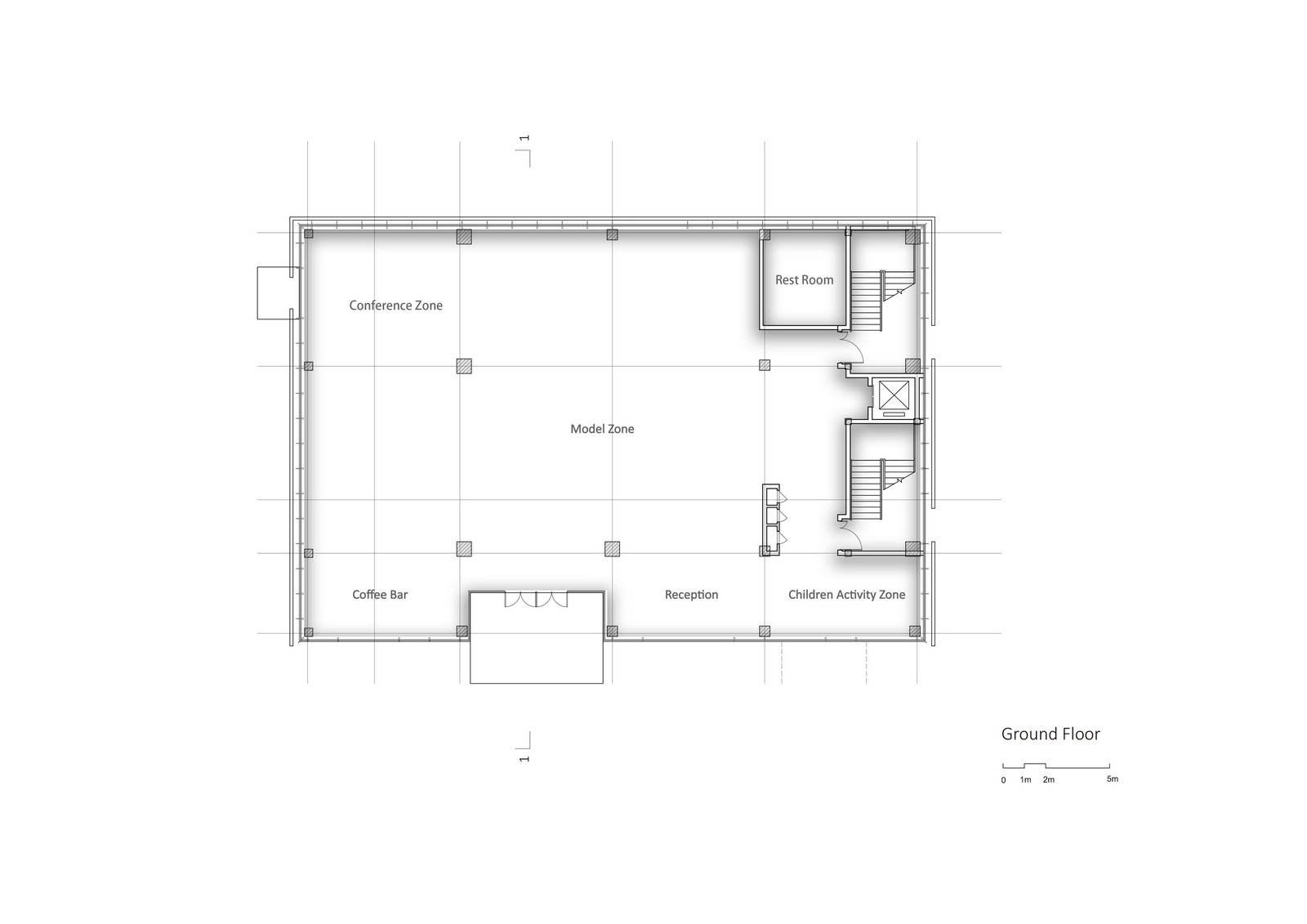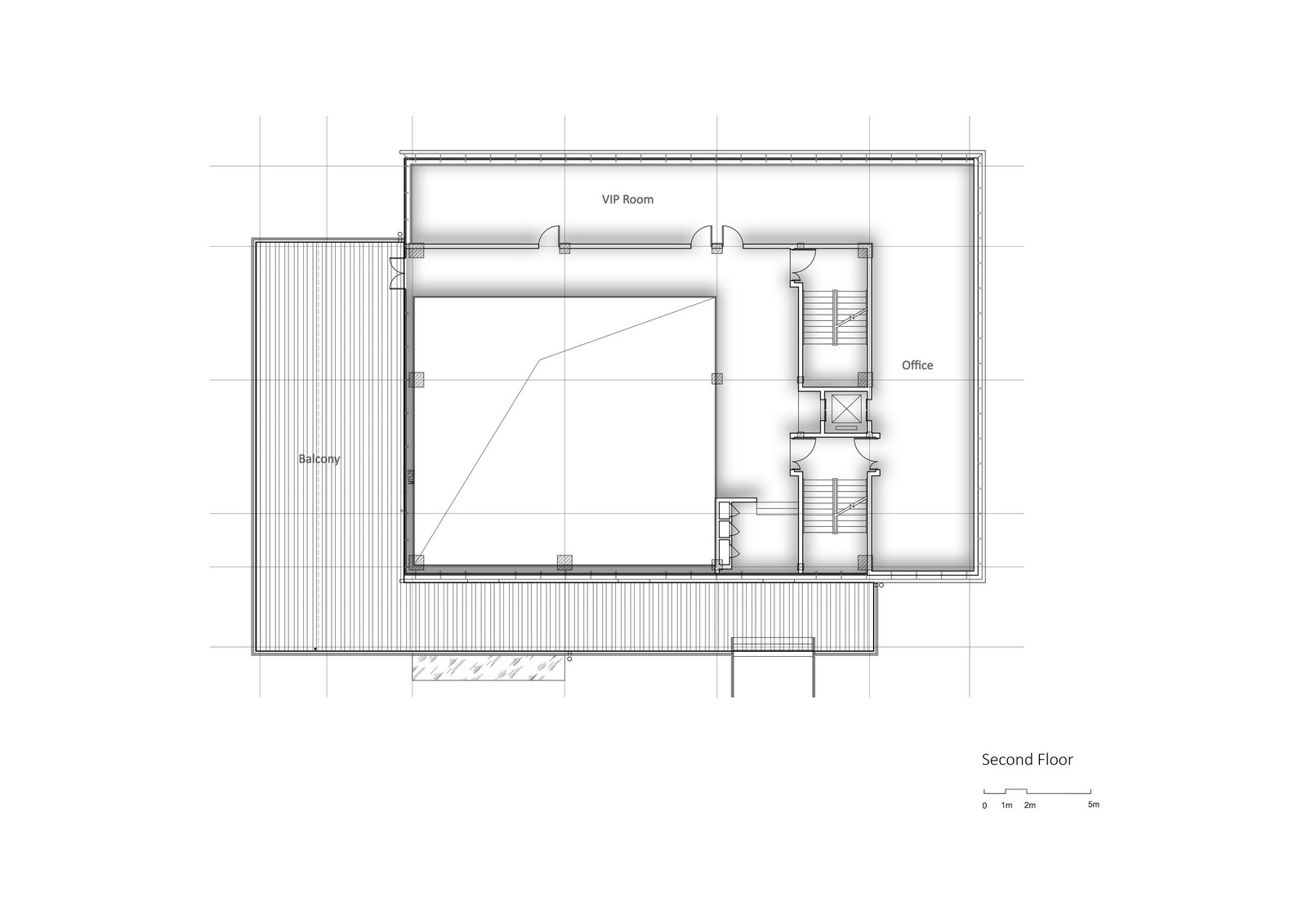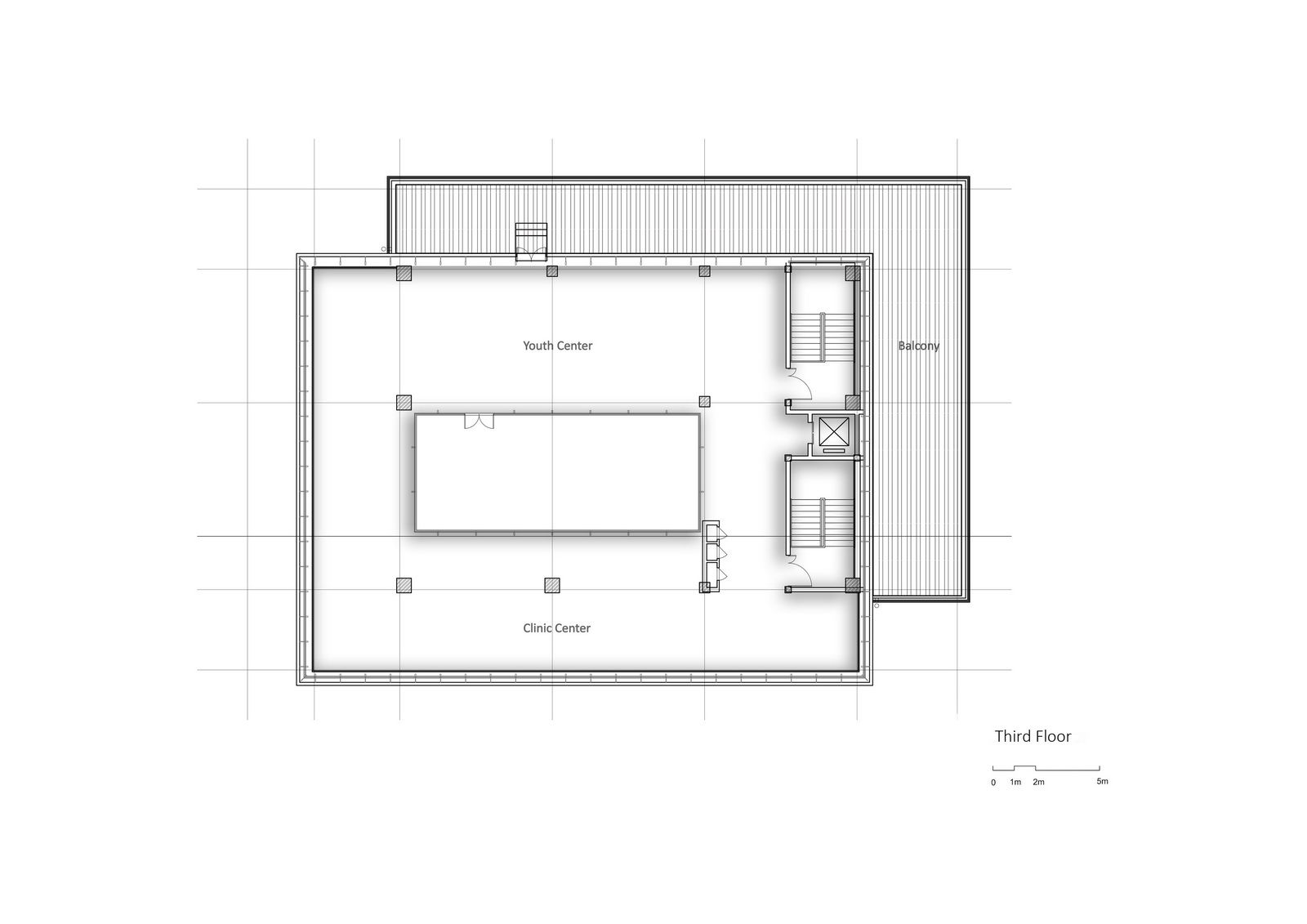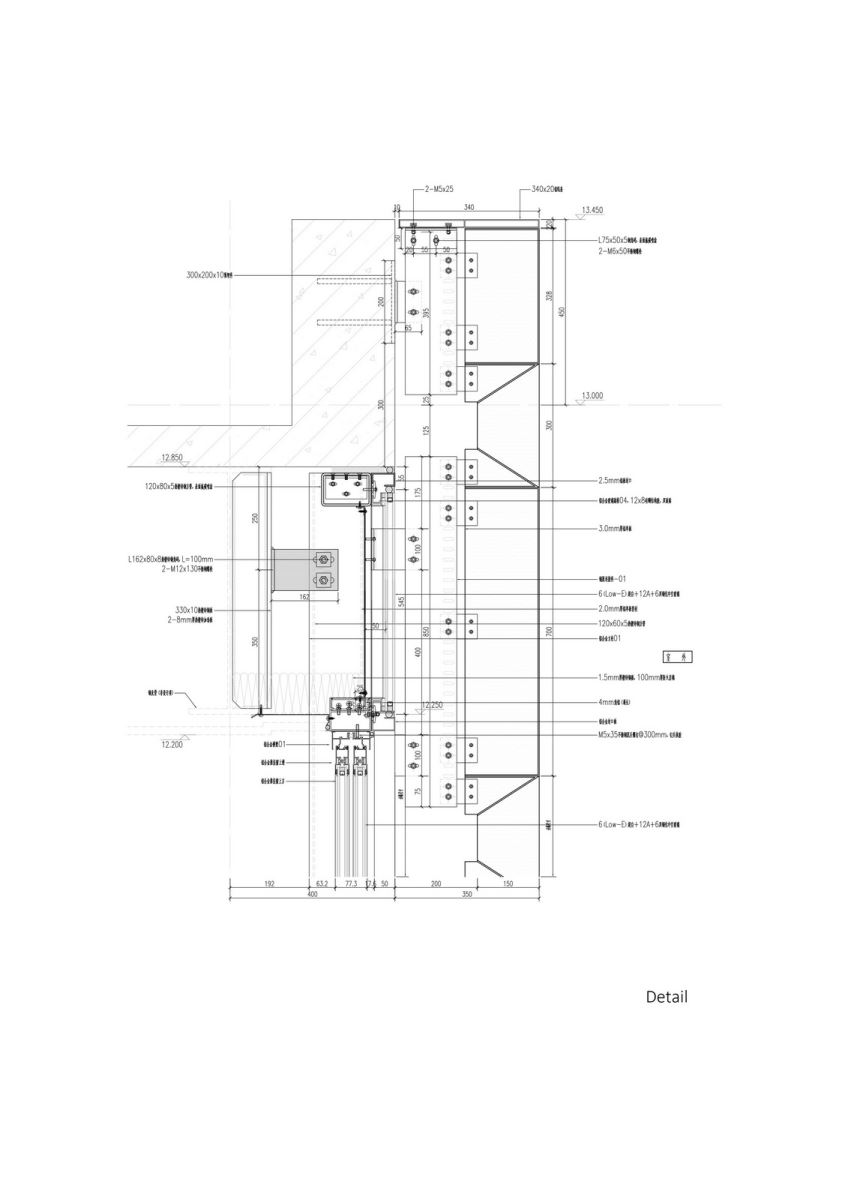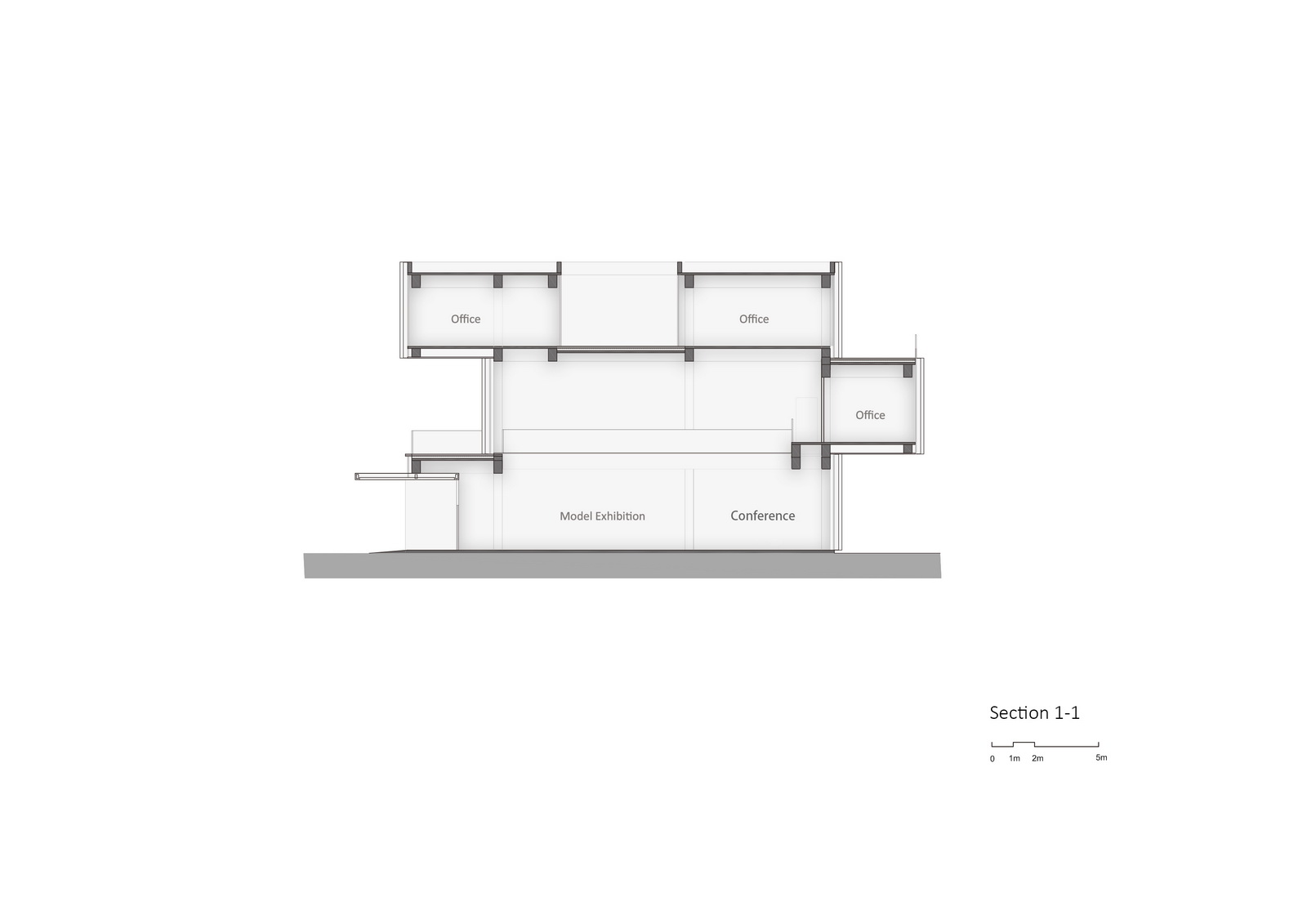 项目信息:
建筑事务所:NAN Architects
事务所网站:www.nan-xu.com
主持建筑师:南旭
设计团队:唐