北京旭辉集团新商业办公楼
STEVEN HOLL ARCHITECTS COMMISSIONED TO DESIGN
NEW HYBRID BUILDING IN BEIJING
斯蒂文霍尔建筑师事务所被委托设计在北京的新综合体建筑

Courtesy of Steven Holl
Steven Holl Architects has been commissioned to design a new 26,000 sm hybrid building of offices and retail for CIFI Group in Beijing. The mixed-use complex will be Steven Holl Architects' second building in Beijing.
斯蒂文霍尔建筑师事务所被委托设计占地面积为26,000平方米的北京旭辉集团新商业办公楼。这将是斯蒂文霍尔建筑师事务所在北京设计的第二个综合体建筑。
The design for the hybrid building is based on five central points:
该综合体建筑的设计基于围绕着五个核心要点:
• Light 光线
• Structure 结构
• Urban Porosity and Gardens 城市空间通透性,景观及生态设计
• Open Office结构开放式办公
• Ecology and Gardens生态及景观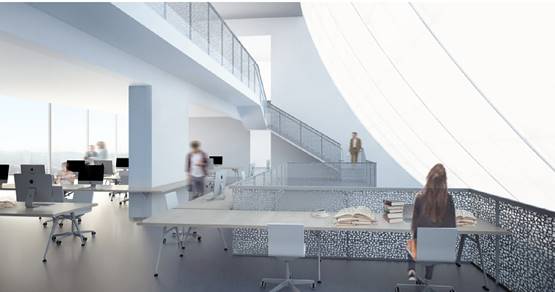 Courtesy of Steven Holl Architects
Varying qualities of light give this office and retail building a unique geometry and shape dynamic spaces. The north light curves — in response to code setback requirements — provide soft and evenly diffused light to the interiors on the upper floors. On the south facade, sculpted cuts bring light to the office spaces and to retail below grade.
光的设计赋予了这个商办建筑独特的外形和空间。北面的曲线屋面既回应了北侧居民楼建筑间距要求, 又给室内灵活的空间提供了柔和均匀的漫射光线。南立面的雕塑式切口巧妙地将光线引入到办公空间及地下商业空间。
The north light curves will be developed together with Okalux. The structure consists of four layers: a glass exterior laid over truss, secondary tubes, and an interior layer of translucent barrisol or newmat.
北面的曲线屋面采用Okalux夹层玻璃,结构包含了四层:玻璃、金属桁架、圆管辅助梁、透光的barrisol或newmat软膜天花。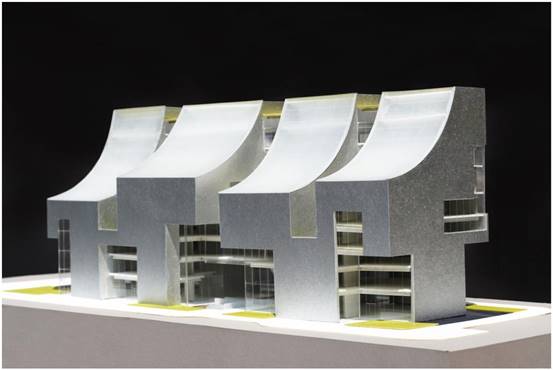 Courtesy of Steven Holl Architects
The exterior concrete structure helps to allow for flexibility in interior space. The top levels of the building will house flexible open office space. The aluminum-painted concrete will be OSB formed, contrasting the smooth, matte finish of the north light curves.
外立面染色混凝土自身作为结构帮助空间灵活布局。大楼顶层将为灵活开放的办公空间。喷铝混凝土为刨花板构成,与北面曲线屋面的光滑、哑光形成鲜明对比。
The retail at grade is shaped around reflecting pools and gardens, giving the building an inspiring urban porosity and a pedestrian-friendly scale. Rainwater recycling in the pools and state-of-the-art ecological systems are envisioned to amplify the sustainable quality of the building.
多处水池及绿色设计让商办楼于城市空间互相渗透,给地上地下商业创造了开放性。雨水通过水池循环利用,世界顶级的生态系统作为绿色建筑标准将增强建筑的可持续性。
The new building will be located in Fengtai, Beijing, and will be Steven Holl Architects' second mixed-use building in the city.
新大楼位于北京丰台区,是斯蒂文霍尔建筑师事务所在北京设计的第二个综合体项目。
About Steven Holl Architects
斯蒂文霍尔建筑师事务所
Steven Holl Architects has realized architectural works nationally and overseas, with extensive experience in the arts—including museum, gallery, and exhibition design; campus and educational facilities; master planning; and residential work. A 40-person architecture and urban-design office founded in 1977, Steven Holl Architects works globally as one office from two locations: New York City and Beijing. Steven Holl leads the office with partners Chris McVoy, Noah Yaffe, and Roberto Bannura. The firm's most recently completed projects are the Glassell School of Art at the Museum of Fine Arts, Houston (2018); the Institute for Contemporary Art at Virginia Commonwealth University in Richmond, Virginia (2018); Maggie's Centre Barts in London (2017); the Lewis Arts Complex at Princeton University (2017); and the Visual Arts Building at the University of Iowa (2016).
斯蒂文霍尔建筑师事务所是一家国际知名,以创新建筑与城市设计为主导的事务所,在纽约和北京均设有工作室;首席设计师斯蒂文·霍尔,以及合伙人克里斯,诺·亚夫和罗勃特共同带领公司的发展。成立于1976年,目前员工总数为40人,事务所擅长教育与文化类型项目,因卓越设计和质量而多次获奖、出版及展览,其广泛经验涉足领域包括博物馆、画廊、展览设计、校园和教育设施、城市总体规划以及住宅建筑等。事务所近期完成项目有:休斯顿艺术博物馆的格拉赛尔艺术学院(2018)、弗吉尼亚州里士满市的弗吉尼亚联邦大学当代艺术学院(2018)、伦敦玛吉中心(2017)、普林斯顿大学的路易斯艺术中心(2017)、以及爱荷华大学视觉艺术馆(2016)。
For more information on Steven Holl Architects, please visit: www.stevenholl.com
如需获取更多有关斯蒂文霍尔事务所的信息,请浏览www.stevenholl.com