杨柳郡社区小学与幼儿园
当代社会对于"亲密关系"的定义早已超越了血缘与法律的界限,其更多的是一种价值观认同下的归属感。
In the contemporary society, definition of "intimate relationship". Has already transcended the boundaries between blood and law, It is more of a sense of belonging under the values of identity.
当美好的人、美好的信仰在美好的空间中相遇,彼此交融成长,便滋生出一种安放身体、
关乎情感、抵达精神的社群关系。
When beautiful person and beautiful beliefs Meet in a beautiful space, Blend with each other, they will develop a social relationship that places the body, affects the emotions and reaches the spirit.
杨柳郡是一座地铁场站之上的"天空之城",它将学校和幼儿园,置于社区的整体环境中。它让教学与游戏散落在每一处角落。在这里,孩子们嬉戏追逐、欢乐探险,用稚嫩的脚步丈量"天空之城"……翩翩骏马去,自是少年行。或许这是关于成长最美的注解。
Yangliu County is a "city of the sky" above the subway, It places schools and kindergartens in the overall environment of the community. It blends teaching with the game, Let the rich outdoor activities be scattered in every corner. Here, the children play, chase and enjoy the adventure, Use the tender steps to measure the "city of the sky"...Children grow and chase for their dreams. Perhaps this is the most beautiful note about growth.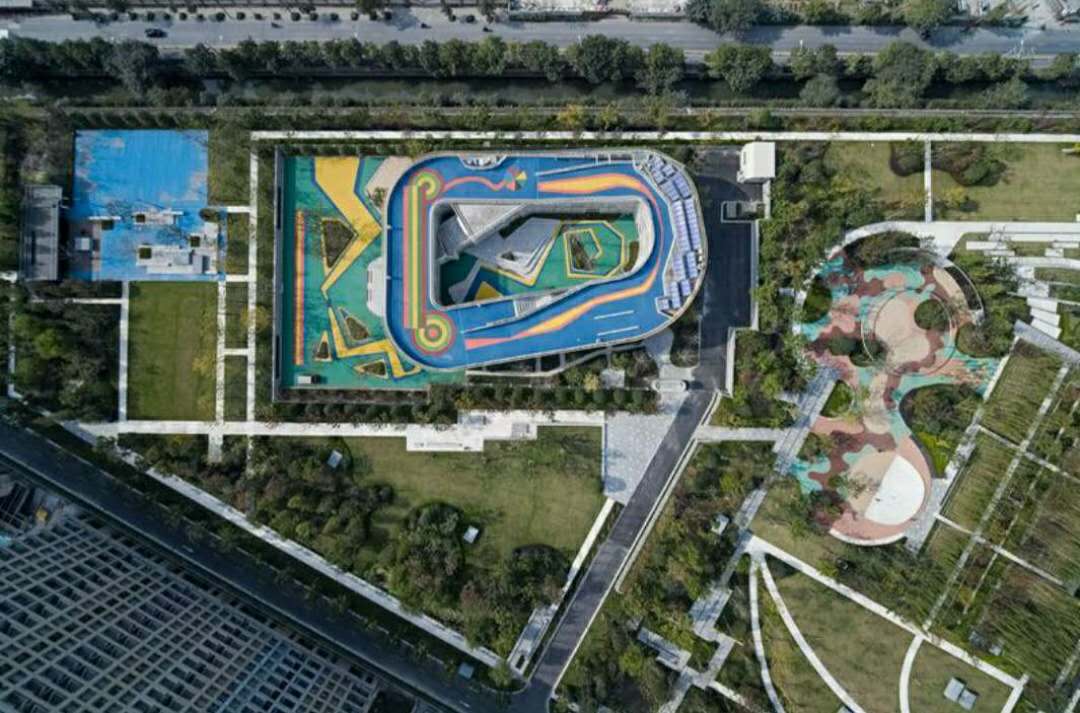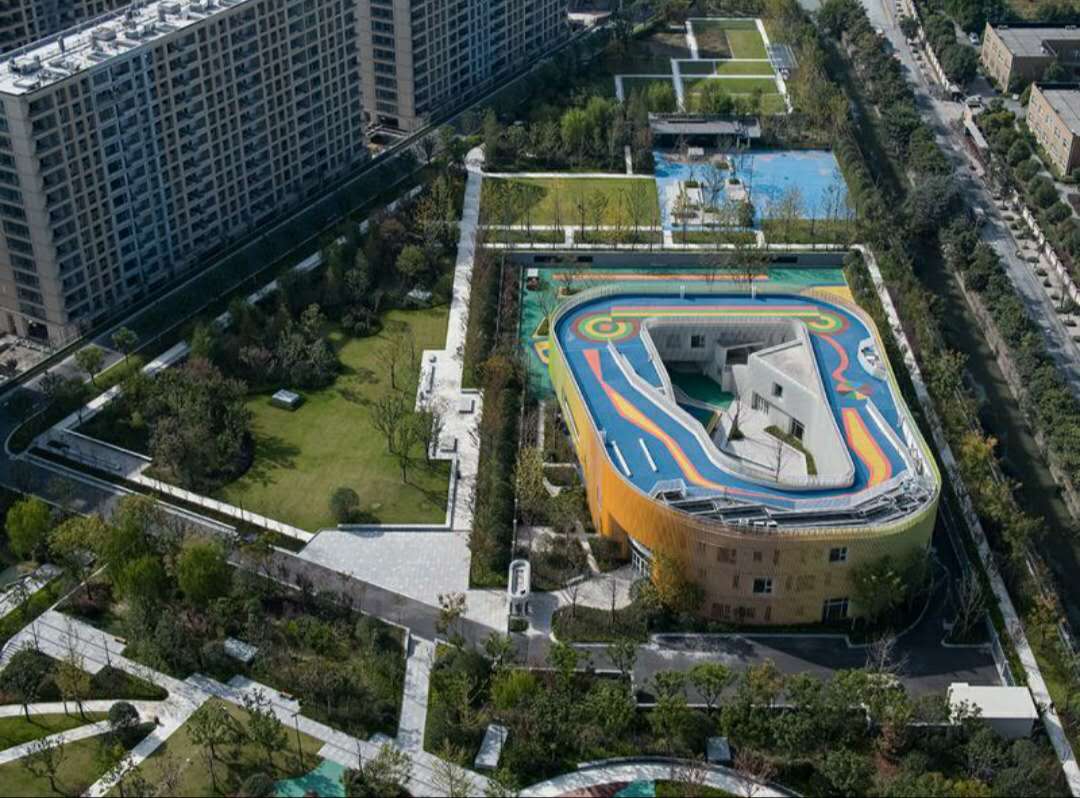 社区西幼儿园位于杨柳郡西南尽端的城市公园中央。其顺应场地成环形布局,建筑自西南至东北角,由两层的体量过渡至三层,平缓、舒展的建筑形态,使得室外台阶和室内环形走廊形成一个连续的活动平台,让孩子们一下课就能"上房揭瓦"。
Community West Kindergarten is located in the middle of the city park at the southwest of Yangliu County. It follows the circular layout of the site. From the southwest to the northeast corner, the building transitions from the two-storey volume transitions to three-storey volume. The gentle and stretched architectural form enables the outdoor steps and the indoor circular corridor to form a continuous activity platform, allowing the children to "touch the roof tiles" as soon as the class is over.
建筑仿佛散落在城市公园里的雕塑,舒展着轻盈、柔和的体态将环境纳入麾下,引发人们反复探索的欲望。匀质细腻的双表皮演绎着光与影的变化,让最纯真的生活意趣在学习、游戏中流淌,让童年在爱和美中滋养出人类精神世界最闪亮的记忆。
The building is like a sculpture scattered in the city park, stretching the light and soft body to bring the environment under its control, arousing the desire of people to explore again and again. The uniform and delicate double skins reflect the changes of light and shadow, so that the most pure life interest flows in the learning game, and the childhood nourishes the brightest memory of the human spiritual world in love and beauty.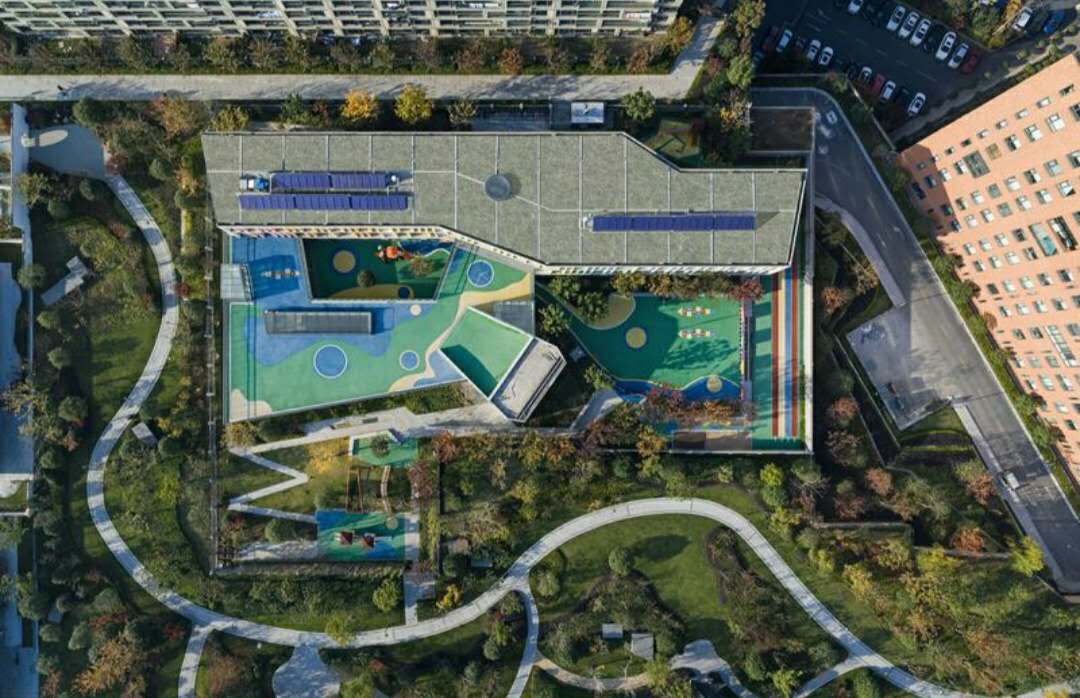 与之相对的是社区东幼儿园,设计同样从空间体验出发,对动线进行了全新梳理,通过连廊将活动场地由庭院扩展到更开敞的城市公园,令孩子们在行走中不断收获惊喜,激发好奇心和创造力。
In contrast, the design of the Community East Kindergarten also starts from the spatial experience and makes a brand new arrangement of the moving lines. Through the corridor, the activity space is expanded from the courtyard to a more open urban park, so that the children can keep gaining surprises and stimulate their curiosity and creativity while walking.
Childlike travels through space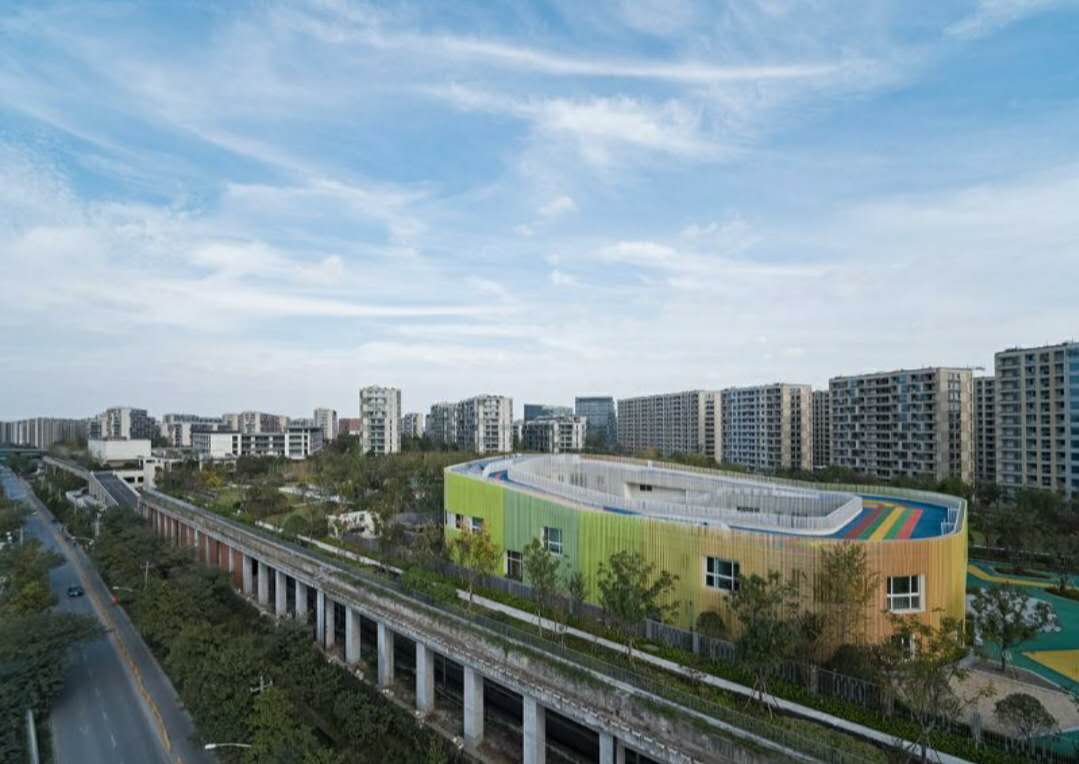 作为"绿城·杨柳郡"居住社区的核心教育配套建筑,小学是以自由无约束,互动多共享的理念,来作为设计的切入角度。以张弛有力的建筑手法营造出丰富的学习、生活空间,在密集的住宅楼间开辟一隅生机盎然、层叠错落的绿谷。
The project is located at the top of the subway center station in Jianggan district, Hangzhou. It is the core educational supporting building of the residential community of "Metro Greentown·Yangliu County". Freedom and unconstrained, interactive multi-sharing is the basic entry point for primary school design. The designer hopes to create a rich learning and living space with a relaxed constructive approach, opening up a green valley that is full of vitality and cascading between dense residential buildings.
&