鲁能美丽汇社区购物中心
随着城市化进程的加速发展,人口密集化与土地资源的稀缺性之间的矛盾日益加剧,如何优化居住环境已然成为当下城市发展的重要变革之一。
With the acceleration of urbanization, the contradiction between population density and the scarcity of land resources is increasingly intensified. How to optimize the living environment has become one of the important changes in urban development.
鲁能美丽汇社区商业项目正是对当前形势的一个探索案例。该项目位于北京市顺义区顺恒大街与乾安路交汇处,是以社区为核心的商业综合体,整体建筑分为地上三层,地下三层,其中地下一层为美食主题街区。原项目规划为百货业态,其建筑柱网结构、挑空关系、建筑层高预留条件,都为百货商业追求盈利面积最大化所预留,但需业主决心改造成购物中心的室内建筑形态,设计团队重新规划了店铺和购物街。
Lu Neng Mei Li Hui community business project is an exploration case of the current situation. This project is located at the intersection of Shun Heng street and Qian An road, Shun Yi district, Beijing. It is a commercial complex with the community as the core. The whole building is divided into three floors above ground and three underground floors, among which the underground floor is a gastronomic theme block. The original project was planned as a department store. The column network structure, the void relation and the building height reservation conditions were reserved for the department store to maximize the profit area. However, the owners were determined to transform the interior into the shopping center, and the design team redesign the store and shopping street.
▼Commercial circulation and entry relations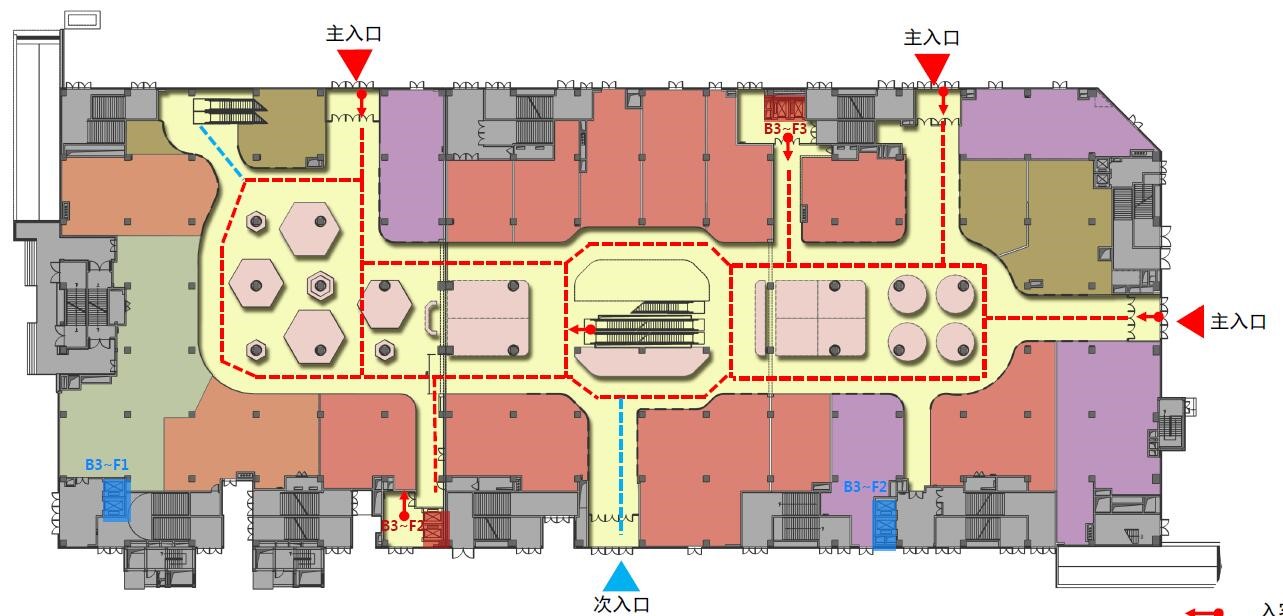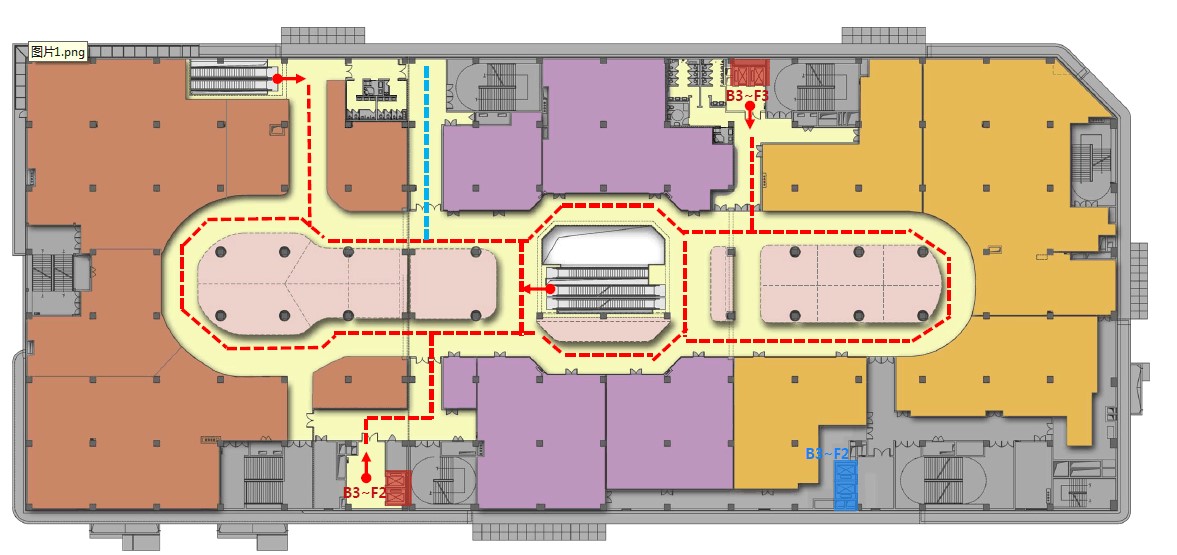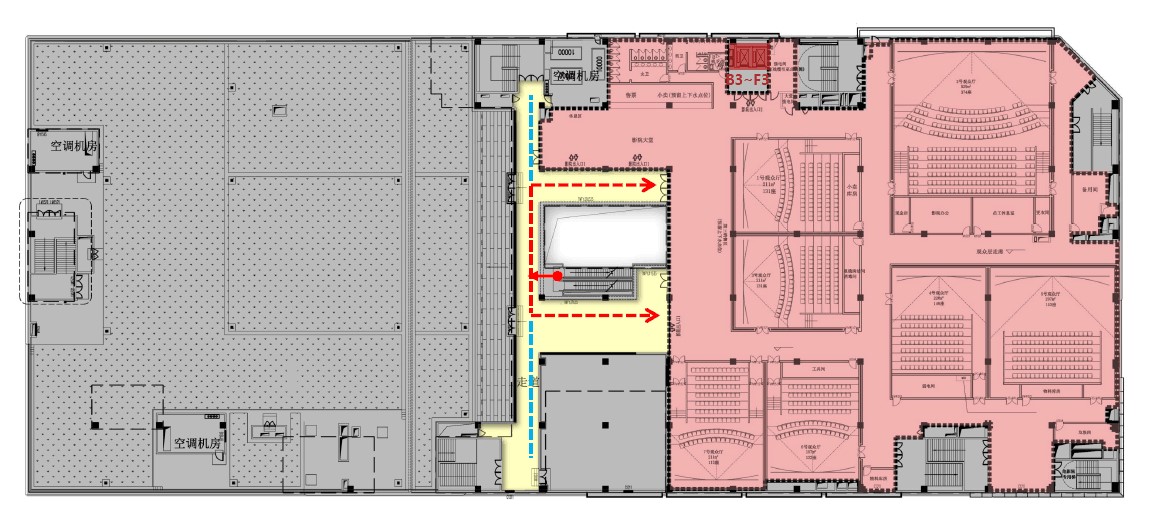 从设计初衷出发,整体室内设计围绕着街心公园的设计理念展开,树木、落叶、蜿蜒的小路,玩耍嬉戏的公园一角,为社区生活增添趣味及温暖,也成为了空间构成元素。
The shopping center is centered around the design concept of the street park, with trees, fallen leaves, winding paths and a corner of the park for playing, which adds interest and warmth to the community life.
【The east entrance|Dandelion flies】
进入主入口,放射状的主题天花映入眼帘,犹如飞散的蒲公英在天花上吹散开。汇集在中心的吊饰形成视觉中心点,内嵌随节日变幻色彩的照明灯光。环形的开敞设计改变了原来较为呆板方正的布局形式,环抱式设计既弱化空间边界感、又最大限度地保证店铺可视化。
Entering the main entrance, the radial theme smallpox comes into view, just like the flying dandelion blowing on the smallpox. The condole that collects in the center is acted the role of form visual central point, embedded lamplight, can follow festiva irregular change color. The annular open design changes the original rigid and square layout. The encircling design not only weakens the sense of spatial boundary but also ensures the visualization of the store to the maximum extent.
▼An illustration of the entrance design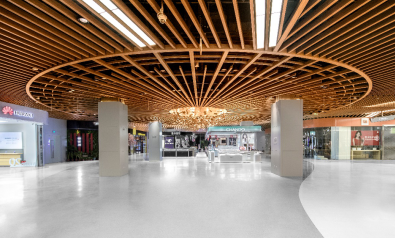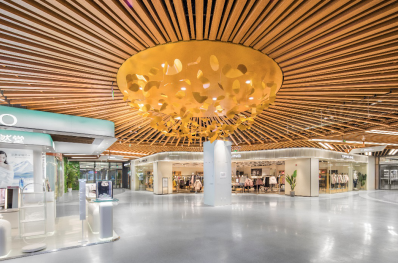 【West side secondary entrance|The woods are full of sunshine and shadows】
原建筑为东西轴向的方形长廊,南北向纵深较窄,无法形成环形动线关系。因而单一的动线形式,过于长直的连廊,都无法将人流引向西侧次入口,因此设计团队从设计手法上改善这一关系,尽可能放大西侧入口作为节点性空间,加强仪式感。
The original building was a square corridor along the east-west axis, with a narrow north-south depth, unable to form a circular moving line relationship. Therefore, the single moving line form and the excessively long and straight connecting corridor could not lead the flow of people to the secondary entrance on the west side. Therefore, the design team improved this relationship from the design method, and enlarged the west entrance as the node space as possible to strengthen the sense of ritual.
▼Concept drawing of the ceiling